Welcome To Spine Physical Therapy Near Stony Brook NY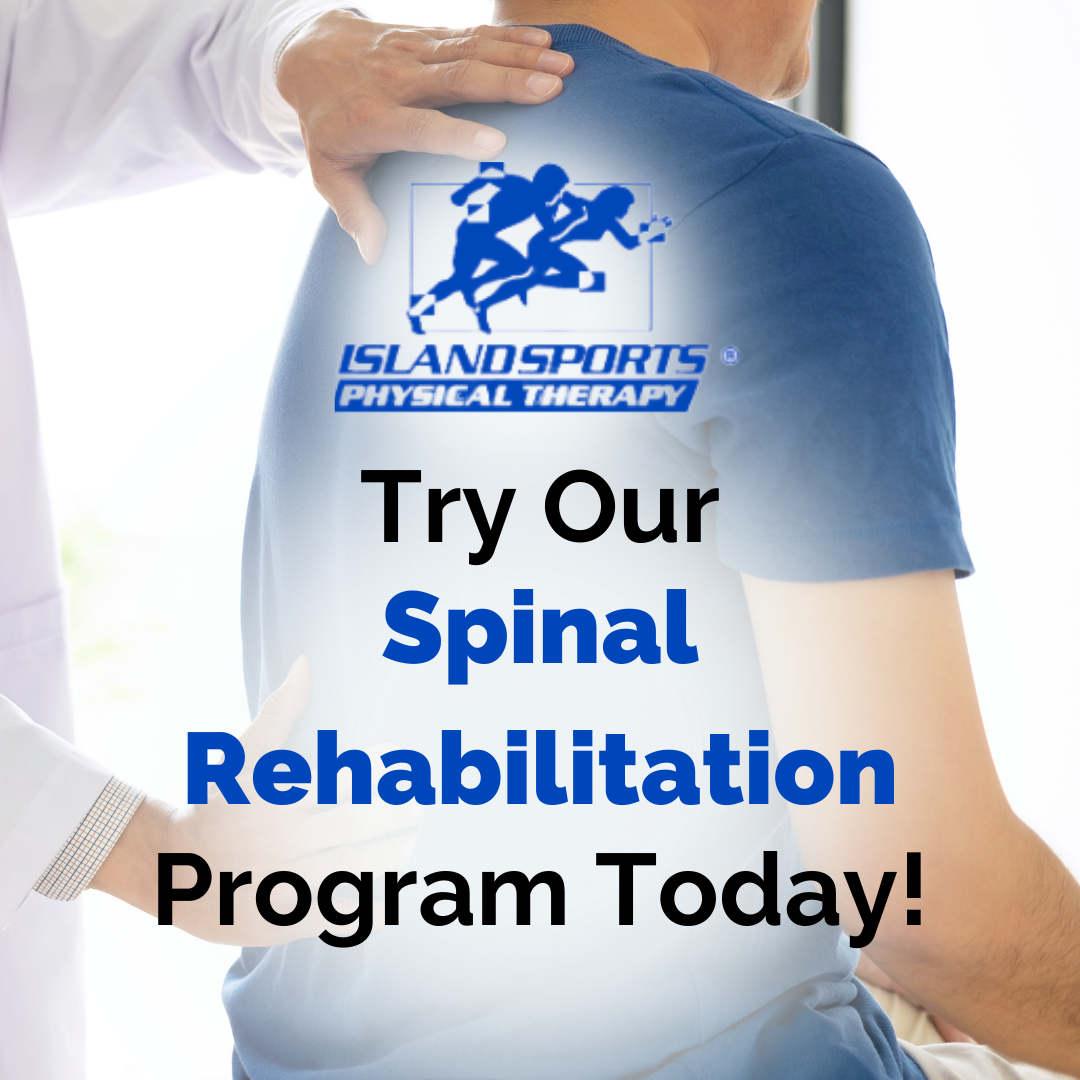 Island Sports Physical Therapy near Stony Brook, NY is a friendly and caring professional practice that provides an encouraging environment for all of our patients.  We use a flexible approach, utilizing a blend of manual therapy, modalities and therapeutic exercise – all tailored to each patient's specific needs.  We take your therapy goals seriously, and work hard to help you achieve them. When you need spine physical therapy near Stony Brook NY contact our team!
Island Sports has earned a great reputation with Stony Brook University Hospital, Huntington Hospital, St. Catherine's, St Charles, Good Samaritan, South Shore University Hospital and Mather Hospital.  We work closely with all local high school athletes from Ward Melville HS, Port Jefferson HS, Comsewogue HS, Mount Sinai HS, and many others.  We proudly provide care for NYFD, NYPD, SCPD, NCPD members, as well as our local Volunteer Fire Departments and local EMS workers.
The East Setauket Location Specializes in:
Sports Medicine
Acute and Chronic Orthopedic Conditions
Chronic Pain
Post-Surgical Rehabilitation
Spinal Conditions
Geriatric Conditions
Neurological Conditions
Osteoporosis Programs
Podiatric Conditions
Hand Rehab
Joint Replacement
Gait Analysis
Vestibular Therapy
Balance Programs
Postural Re-education Programs
Pediatric Orthopedics
Fitness Programming
Spine Physical Therapy Near Stony Brook NY
Fill Out This Form For Spine Physical Therapy Near Stony Brook NY
Spine Care With Island Sports Physical Therapy
Here at Island Sports Physical Therapy in East Setauket, we have treated patients for over 30 years and have seen all kinds of spinal injuries. We know physical therapy can be stressful; however, we have seen patients recover through spinal rehab. If you have a spinal injury and are looking for Spine Physical Therapy near Stony Brook NY, please continue reading to learn how we can help you recover.
The Purpose of Physical Therapy
When it comes to physical therapy, our main goal is to help you recover from your spinal injuries and to ensure that your body properly heals to prevent future injury. Our program of Spine Physical Therapy near Stony Brook NY can help you with the following:
 Regain mobility and bodily abilities

Improve muscle strength 

Enrich your ability to carry out daily activities
The Benefits of Spine Physical Therapy Near Stony Brook NY
The use of physical therapy can have many different benefits that patients will notice. Some of these benefits will be noticeable immediately, while others will be noticeable over a period of time. With the help of our team of physical therapists, you will see the following benefits:
Identify your spinal issue and provide you with the best methods to help you recover

Increase your tolerability for pain and manage it

Increase your physical activity to help prevent any other health conditions

Provide care specifically tailored to your needs and capabilities

Provide an alternative to using medicines such as steroids and opioids

If your condition doesn't require surgery, physical therapy can help you prevent the need for it.

If you have had surgery; physical therapy can help you recover from your recent procedure

Provide you with the necessary tools to take an active role in your recovery

Helps you to recover from your injury and prevent your spinal injury from returning

Help you regain physical abilities you might have lost due to the injury
How We Help
At Island Sports Physical Therapy in East Setauket, our main priority is you. To ensure that you are getting the best care possible, our Spine Physical Therapy near Stony Brook NY uses a mix of active and passive forms of physical therapy; that way, you receive the right treatment. 
Passive physical therapy is when our expert physical therapists perform different methods, and the patient doesn't participate. Some passive therapies we use are manual therapy, ultrasounds, and ice and heat therapies. The purpose of passive therapy is to allow our expert team to handle you with care.
Active physical therapy is when our physical therapists give the patient a series of exercises to help increase flexibility, range of motion, and strengthening. The benefit of using active physical therapy is that it allows the patient to personalize the physical therapy exercises to what they can handle. It also relieves stiff muscles, regains balance, and improves strength and flexibility.
Spinal Injuries We Treat At Spine Physical Therapy Near Stony Brook NY
Here at Island Sports Physical Therapy, we have seen our fair share of spinal injuries. With the help of our Spine Physical Therapy near Stony Brook NY we have helped patients recover from the following spinal conditions:
Neck and/or lower back pain

Whiplash due to any vehicular accident

Post-surgery recovery

Any degenerative-disc disease you might be suffering from

Spine Physical Therapy Near Stony Brook NY
Schedule An Appointment For Spine Physical Therapy near Stony Brook NY
If you're experiencing pain due to a spinal injury, then you don't have to suffer anymore. Call our East Setauket office today to schedule an appointment for Spine Physical Therapy near Stony Brook NY, to learn about how the benefits of spinal rehabilitation can help you recover from your injury. Visit our website to view all of our locations and schedule an appointment.
Spine Physical Therapy Near Stony Brook NY For Sciatica Pain
Sciatica is a painful condition that results from irritation or complications of the sciatic nerve. The sciatic nerve stems from the lower back, or the lumbar area, and extends down the back of the leg. Those who suffer from sciatica will experience pain that radiates from the lower back, through the hips, and down the leg. While sciatica pain can be severe, the most common form of treatment is physical therapy. If you are suffering from sciatica and require Spine Physical Therapy Near Stony Brook NY, reach out to us at Island Sports Physical Therapy and see how we can help resolve your sciatica pain today!
Sciatica Symptoms
The most common symptom of sciatica is a sense of pain that radiates from the lower back to the back of the leg. Sciatic pain varies greatly from case to case, ranging from a mild ache to a sharp burning sensation. In some cases, 
patients may feel numbness, tingling or muscle weakness. These symptoms can be aggravated or exacerbated upon you coughing, sneezing, or extended periods of sitting or standing. Severe cases of sciatica can even make moving and walking difficult tasks. Some people report that lying down can help alleviate some of the symptoms of sciatica.
What Causes Sciatica?
Any form of irritation or inflammation of the sciatic nerve will cause sciatica or sciatic pain. This usually occurs when the sciatic nerve gets pinched from a herniated disc, typically a lumbar disc herniation, or a bone spur on the vertebrae. Other causes of sciatica include infections, symptoms of other diseases like diabetes or arthritis, tumors, or injury in the area. Some risk factors that may increase the risk of developing sciatica include:
Age – Herniated discs and bone spurs become more common as the body ages and are two of the most common causes of sciatica.
Obesity – Excess body weight can place excess stress on the spine, potentially leading to spinal conditions such as herniated discs and bone spurs.
Prolonged Sitting – A sedentary lifestyle has been linked with developing sciatica. If you sit or stand for prolonged periods due to work or other lifestyle factors, you are at a higher risk of developing sciatica.
Diabetes – Diabetes increases the risk of general overall nerve damage, which can include damage to the sciatic nerve.
How Does Spine Physical Therapy Near Stony Brook NY Help Sciatica?
Sciatica is caused by a nerve-related irritation resulting in all of its other symptoms. This irritation is often caused by underlying issues, such as herniated discs or bone spurs. For this reason, physical therapy can bring relief for sciatica symptoms as well as treat the underlying factors that cause the irritation in the first place. Physical therapy for sciatica can:
Relieve pain in the area.
Improve and restore mobility in the lower body.
Promote healing of the underlying cause.
Prevent future pain flare-ups.
Strengthen the surrounding area to prevent reinjury.
Contact Spine Physical Therapy Near Stony Brook NY
Physical therapy is usually one of the first forms of treatment recommended to help manage sciatica. Physical therapy treatments may be combined with over the counter pain medicine to see optimal results. However, the most important part of successful treatment is commitment and persistence. If you are suffering from sciatica, do not hesitate to contact us at Spine Physical Therapy Near Stony Brook NY, to discover how our treatment options can help you today!
Scoliosis Treatment
Scoliosis is characterized as the sideways curvature of the spine that most commonly occurs when an adolescent is about to go through puberty or undergoes a growth spurt. While this condition tends to impact only three to five percent of adolescents, seven in ten adults over the age of sixty have scoliosis. Adults are more likely to experience symptoms of scoliosis than adolescents. Among the most commonly experienced symptoms are back pain, fatigue, and loss of function. The team at Island Sports Physical Therapy is prepared to help you manage many of the common symptoms associated with scoliosis through the use of our Spine Physical Therapy Near Stony Brook NY.
What Causes Scoliosis?
Doctors are not entirely sure what causes the most common forms of scoliosis, but it does seem to involve hereditary factors. Some of the more uncommon types of scoliosis can be caused by:
Neuromuscular conditions
Birth defects that affect the spine's development
Injuries to or infections of the spine
The risk of developing scoliosis can even vary based on age, gender, or family history. While both males and females tend to develop mild scoliosis at the same rate, females are often at a greater risk of their curvature worsening.
Do I Have Scoliosis?
To determine if a patient has scoliosis, a doctor may use what is known as The Cobb Angle. Invented by Dr. John Cobb in 1948, this method requires drawing lines parallel to the upper border of the upper vertebral body and the lower border of the lowest vertebra of the structural curve. Perpendicular lines are then drawn from these two parallel lines and this is known as the "angle of curvature." The minimum angle for scoliosis is an angle of ten degrees. For an angle between fifteen and twenty degrees, you may require physical therapy and regular check-ups to prevent the curvature from becoming more severe. For an angle between twenty and forty degrees, our Spine Physical Therapy Near Stony Brook NY and a back brace will likely be necessary. Any angle greater than forty degrees may require surgery to link the vertebrae so the spine cannot continue to curve.
What Can I Expect From Physical Therapy For Scoliosis?
Physical therapy has been shown to be beneficial in both reducing symptoms and improving the quality of life among those who suffer from scoliosis. Physical therapy for scoliosis tends to come in many different forms as each patient's case of scoliosis is different. Our Spine Physical Therapy Near Stony Brook NY may include:
Breathing and functioning mechanics.
Using exercises to balance out the curve in the spine.
Teaching you how to incorporate anti-scoliosis postures into routine activities.
Performing involuntary exercises to train your brain and muscles to act in a different way.
It is important to retrain your brain to perform any involuntary motions that you already do that impact your spine. Your posture and other involuntary habits would likely need to be corrected through the use of Spine Physical Therapy Near Stony Brook NY and you will begin to see improvements after your first few sessions. If your scoliosis is mild or moderate, do not wait for treatment. You could be running the risk of making your condition far worse.
Contact Us For Spine Physical Therapy Near Stony Brook NY Today!
Here at Island Sports Physical Therapy, we provide Spine Physical Therapy Near Stony Brook NY as well as five other convenient locations on Long Island. Our team will work tirelessly to treat your scoliosis and help you avoid surgery, or even help you get back on track after surgery. Either way, Island Sports Physical Therapy will help you improve your quality of life and get you back to doing what you love. To learn more about us and how we can help, be sure to contact us today!
Correcting Your Posture
Maintaining poor posture can cause many health complications. From back pain to balance issues, our posture affects us in many ways. That's why it is important to start breaking bad habits and correcting your posture as soon as possible. Even with that thought in mind, as the day goes on, it is easy to neglect your posture, often resulting in issues such as back pain, neck pain, and general discomfort. Luckily, the team here at Spine Physical Therapy Near Stony Brook NY can help! We will provide treatment to help ease any pain associated with poor posture and help keep you on track to practice good posture daily! 
Effects Of Poor Posture
While many tend to think of poor posture as something that affects your appearance, it can have several impacts on your overall health and wellness. In addition to general pain and discomfort, poor posture can lead to issues such as:
Misalignment of the musculoskeletal system.

Weakening of the spine, making it more prone to injuries.

Decreased flexibility, joint movement, and balance.

Slower metabolism.

Impaired lung function.
If you are still not convinced of the importance of good posture, poor posture can also affect the spine's curvature. The following are examples of common spine issues that can occur due to poor posture:
Forward Head:

Forward head, also known as text neck, occurs when the body often hunches over a cell phone or computer. With a Forward head, the skull is pushed forward past the spine's midline. 

Swayback

: This condition can occur if the body is seated for too long. The abdominal muscles and glutes become weak, causing the lower spine to curve inward.
Correct posture is the key to avoiding these potential problems. It's hard to break old habits, but you don't have to do it alone! Let Spine Physical Therapy near Stony Brook NY be part of your journey!
Benefits of Good Posture
While we have mentioned some of the adverse effects of poor posture, many positives can come from practicing good posture! Other than reversing the issues discussed above, some other benefits of good posture include:
Fewer headaches.

Increased energy levels.

Decreased risk of abnormal wearing of the joint surfaces.

Improved circulation.

Reduced TMJ pain.

Improved core and upper back strength.

Better form during workouts.
Identifying Bad Posture
Many of the things we do every day can contribute to poor posture. For example, sitting at a desk for too long can lead to slouching. Over time, this slouching can cause poor posture habits. Identifying what activities contribute to poor posture is often the key to fixing it. Some examples of everyday actions that can contribute to poor posture include:
Carrying something heavy on one side of the body.

Holding a phone receiver between the neck and the shoulder.

Wearing high-heeled shoes.

Wearing clothes that are too tight.

Holding the head too high or looking down too much.

Sleeping with a mattress or pillow that doesn't provide proper back support.
Improving Your Posture At Spine Physical Therapy Near Stony Brook NY
The easiest way to correct your posture is to know what may be causing your poor posture in the first place. If you identify what is causing your issue, you can take the steps necessary to adjust your routine! However, it can sometimes be challenging to know the exact cause, which is where our team comes in. By visiting Island Sports Spine Physical Therapy near Stony Brook NY, our team will assess your posture and painful symptoms and work to develop a treatment plan that works for you! While we are here to help you, making these simple changes to your routine may help improve your posture and reduce your pain:
Keep your feet flat on the floor; don't cross your legs.

Keep a small gap between your chair and the back of your knees.

Your knees should be at or below the level of your hips.

Make sure your lower- and mid-back is supported. Either adjust the chair or use a lumbar support attachment on your chair.

Relax your shoulders and keep your forearms parallel to the ground. 

Don't sit in the same position for too long. Make sure to get up and move around occasionally. 
 Make sure to be mindful of your posture when you're standing as well:
Hold your weight mainly on the balls of your feet.

Bend your knees slightly.

Keep your feet shoulder-width apart.

Let your arms hang naturally down the sides of your body.

Stand straight and pull your shoulders down and back. 

Tuck in your stomach.

Keep your head level. Don't tilt your head forward or backward.

If you have to stand for an extended time, shift your weight from your toes to your heels.
Exercises At Island Spine Physical Therapy Near Stony Brook NY
In addition to the tips mentioned above, there are also some simple exercises and stretches that you can do to help improve posture. While these are possible to do at home, you should get approval from a physical therapist before adding these exercises to your routine. Our team at Island Sports Spine Physical Therapy near Stony Brook NY can help create an exercise routine that works best for you. Activities that can help improve posture include: 
Child's pose:

Stretches the spine and releases tension in the lower back and neck.

Forward fold:

Stretches the hips and legs.

Cat-cow and standing cat-cow:

Stretches the back and promotes blood circulation.

Chest opener:

Strengthens the chest.

High plank:

Doing a high plank relieves pain throughout the body and works the Shoulders, glutes, hamstrings, and core.

Side plank:

Aligns the spine and legs. It also strengthens the glutes and the muscles in the side.

Downward facing dog:

Reduces back pain and aligns the back.

Pigeon pose – Increases flexibility in the spine, hamstrings, and glutes.
Thoracic spine rotation:

Increases stability and mobility

Glute squeezes:

Improves alignment of the hips and pelvis.

Isometric rows:

Relieves stiffness in the arms, shoulders, and back muscles.
Contact Us For Spine Physical Therapy near Stony Brook NY
While you can make many lifestyle changes to help improve your posture, it is always best to consult a professional if pain persists. When you visit us for Spine Physical Therapy near Stony Brook NY, our team will teach you exercises that will help strengthen the shoulders and upper back muscles, helping to improve posture. To learn more or to schedule an appointment, be sure to contact us today!
FREQUENTLY ASKED QUESTIONS ABOUT Spine Physical Therapy Near Stony Brook NY
–
WHAT ARE THE DIFFERENT TYPES OF PHYSICAL THERAPY?
Physical therapy can be broken down into six different areas. They include pediatric, geriatric, vestibular rehabilitation, neurological, orthopedic, and cardiovascular/pulmonary PT.
WHAT ARE THE BENEFITS OF PHYSICAL THERAPY AFTER SURGERY?
After going through surgery, PT can help restore the normal movement in your joint(s), build up the strength in your joint(s) and muscles, bring pain relief, reduce swelling, and increase circulation.
HOW CAN ISLAND SPORTS Spine Physical Therapy Near Stony Brook NY HELP?
Physical therapy is a non-invasive treatment that can be used to both evaluate and treat injuries, disabilities, diseases, or conditions. Our team is equipped with state-of-the-art equipment and trained professionals who are determined to help you reach you goals of recovery.
How Physical Therapy Can Help With Spinal Pain
We offer a specific spinal rehabilitation program at our practices across Long Island. We created this rehabilitation program so those with back problems receive individualized care designed to address their particular situation. We utilize various techniques and methods to help regain back mobility and decrease pain. The first step we always take is to perform an evaluation. We do this to understand your goals for physical therapy regarding your injury. We also will get a feel for your injury or condition so that we can tailor your treatment plan to you.
What are Common Spine Injuries
Whiplash, Osteoporosis, Degenerative disc disease, Spinal fractures