Physical Therapy for Vestibular Conditions
Your vestibular system includes the parts of the brain and inner ear that help control both eye movements and balance. In a recent epidemiological study, it was found that approximately 69 million Americans have experienced a form of vestibular dysfunction. Essentially, your vestibular system is a central part of your functioning abilities. When damage or disease is infiltrating these areas, not only do you feel the effect it has on your body, but you will also experience difficulties when it comes to performing day-to-day tasks. If you or someone you know is suffering from a vestibular disorder, know there is a way you can ease your symptoms. With the help of physical therapy in Huntington, you can learn how to treat many of the negative symptoms yourself through exercise.
Common Symptoms:
The symptoms of vestibular disorders can be broken down depending on the type and severity of them. When visiting physical therapy in Huntington, make sure you fully describe the symptoms you are experiencing so they can help properly diagnose your disorder:
Vertigo – If you are suffering from vertigo you likely feel dizzy, or that the world around you is spinning. You may also feel lightheaded or a rocking sensation while sitting still or with certain movements.
Balance and Spatial Orientation – You often feel an imbalance, have difficulty walking straight or even stumble frequently. You also may struggle with coordination or tend to hold onto something while standing.
Vision Issues – If your experience symptoms involving your vision, you may feel discomfort in busy visual environments, have a sensitivity to light, poor depth perception, and have trouble focusing or tracking objects.
Hearing Issues – You may hear a ringing, roaring, or buzzing in your ear. It is also likely that you have a sensitivity to loud noises or environments.
If you suffer from any of the following symptoms, a physical therapist at Island Sports Physical Therapy in Huntington can then devise a personalized treatment plan based on your needs.
How can physical therapy in Huntington help?
Vestibular rehabilitation is a specialized form of therapy that will target both primary and secondary problems caused by vestibular disorders. Your physical therapist will create an exercise program that can incorporate the following:
Visual cues
Somatosensory cues
Stationary positions
Dynamic movements
Coordinated movements

Ones that target the ankles, hips, or both

Dual tasks

Ones that involve balancing at the same time
At Island Sports Physical Therapy in Huntington, we offer a variety of services, including vestibular therapy, to help patients manage pain and reduce the many symptoms that come along with vestibular disorders. To learn more about our services, or how you can get a personalized treatment program just for you, contact us today!
NATIONAL PHYSICAL THERAPY MONTH
With the warm weather beginning to dissipate, those in the community may not be as willing to participate in exercise/outdoor activity. For patients, this could be an issue, as a lack of physical activity can lead to injury or deteriorations of health. One of the many national health observances that's recognized throughout the month of October is National Physical Therapy Month. The goal of this observance is to help raise awareness in regards to physical therapy and the role these therapists play in helping patients find pain relief, improve mobility and functionality, and live an overall healthier life. If you have been considering physical therapy as a treatment option, then look no further than Island Sports Physical Therapy in East Meadow. For years, we have been treating patients with specialized methods and have provided comprehensive evaluations. Essentially, there is no better time to stop by then during October, as we encourage all of our patients and their families to get involved and partake in healthy activities this month.
Benefits of physical therapy:
Aside from serving as a potential alternative treatment method for surgery and medications, the following benefits also come along with physical therapy treatment:
Pain management.
Possibly avoiding surgery.
Improved mobility.
Improved movement.
Injury recovery.
Fall prevention.
Stroke or Paralysis recovery.
Improved balance.
Proper management of age-related complications.
Common conditions treated by physical therapy:
A physical therapist can work directly with you and assist in any stage of the healing process. Whether you have just been diagnosed, or have recently started your recovery process, physical therapy in East Meadow can serve as your primary beneficiary. Depending on your reasoning for signing up, a physical therapist will construct an exercise-based treatment plan, along with self-management recommendations, that can help you succeed and attain the goals that you're targeting. Someone who is seeking out physical therapy will typically suffer from one of the following conditions:
Cardiopulmonary Conditions
Hand Therapy

ex): Carpal Tunnel Syndrome or Trigger Finger

Musculoskeletal Dysfunction

ex): Back pain, rotator cuff tears, or TMJ

Neurological Conditions

ex): Stroke, Parkinson's Disease, injury to the spinal cord, MS, vestibular dysfunction, or traumatic brain injuries

Pediatric Conditions

ex): Developmental delays, CP, or muscular dystrophy

Sports-related Injuries

ex): Concussion or Tennis Elbow

Women's Health and Pelvic Floor Dysfunction

ex): urinary incontinence or lymphedema
How can physical therapy in East Meadow help?
At Island Sports Physical Therapy, you can find the personalized care you deserve. If you suffer from any of the above conditions, or just want to work on managing your overall health, we can help! We offer a variety of services that can offer you the individualized treatment you need, including some of the following:
Orthopedic Care.
Spinal Rehabilitation.
Sports Specific Therapy.
Geriatric Rehabilitation.
Children's Injuries.
Fitness Programming.
For more information on how you can begin physical therapy in East Meadow, visit our website or give us a call to schedule your appointment!
More than 80% of Americans will face an issue with posture at some point in their lives.  While posture may not seem like a big deal to many, having a poor posture can result in daily pain and discomfort. To alleviate these symptoms and correct your posture, consider teaming up with us at Island Sports Physical Therapy. 
Symptoms Of Poor Posture
With people spending more and more time hunched over a desk to meet the needs of their job, issues with posture have been steadily on the rise. While it's easy to think that the only problems that can arise from having poor posture are ones of an aesthetic variety, this is not the case. If you find yourself dealing with the below symptoms, there is a high chance that you have a postural problem:
Rounded shoulders.
Uneven hips.
Poor circulation.
Increased levels of fatigue.
Back and knee pain.
Forward leaning head.
How It Develops
As with any injury or condition, the most effective form of treatment is avoiding it altogether. By keeping the below causes of poor posture in mind, you'll be able to work towards avoiding it:
Bending your neck forward for long periods when texting.
Suffering from muscle tension and weakness.
Inability to manage stress in healthy ways.
Wearing certain shoes such as high-heels or ones with worn-out soles.
How Physical Therapy Can Help 
If you partake in any of the previously listed causes too frequently, you'll end up suffering from muscular imbalances, which is the true cause of poor posture. Fortunately, the team at Island Sports Physical Therapy can offer treatment for these imbalances. One of the main goals of physical therapy is to regain strength in an injured area, making it the perfect method to correct postural issues. Parts of the physical therapy process our team will include when treating this condition include:
Using a lumbar roll.
Performing scapular stabilization exercises.
Implementing the slouch overcorrecting procedure.
Administering kinesiology tape to your neck or spine.
Island Sports Physical Therapy
At Island Sports Physical Therapy, our team is committed to helping all patients face and overcome postural issues. Through the use of physical therapy, our team can help you realign your spine and eliminate your pain. For more information about how poor posture can affect your well-being and how we can help, contact us today!
Arthritis is one of the most common causes of knee pain. The condition itself is often very uncomfortable and can be tricky to deal with. It can make just taking a step or walking to the bathroom extremely painful, and nobody wants that. Fortunately, with the help and guidance of physical therapy in Huntington, you can learn how to minimize your pain and get back to your day to day life. At Island Sports Physical Therapy, our team is here to help you during your appointments as well as offer you tips and techniques to use while at home to treat your arthritis.
Symptoms:
Typically the symptoms of arthritis will progress over time. The location of your arthritis in your body will determine which types of symptoms you have. No matter where you have it though, it is important to start treatment sooner rather than later. Some of the more common symptoms of knee arthritis may include:
Pain when doing activities

A small range of motion

Swelling or stiffness of joint

Tenderness in knee

Deformity of joint

Feeling that your knee is about to, "

give out

"
Exercises:
One of the best ways to help reduce the pain of knee arthritis is to regularly stretch and engage in exercise. No matter how simple the exercise may be, the benefits will still be there. While at physical therapy in Huntington, a PT may provide you with some of the following exercises to ease the pain of your symptoms:
Straight leg raise

– helps build up muscle strength to assist with weak joints

Seated hip march

– this will strengthen your hips/thigh muscles; which is beneficial for performing everyday tasks.

Pillow squeeze

– will strengthen the inside of your legs which will help support your knees.

Sit to stand

– will make standing easier on your knees.

One leg balance

– this can help you bend over/help get in and out of cars easier.

Step-ups

– will strengthen your legs so you can easily climb steps

Walking

– this can ease your joint pain, strengthen your leg muscles, and improve your posture.

Swimming

– will take the weight off painful joints.
Performing these exercises both at home and at physical therapy in Huntington will help decrease your arthritis pain and get you back on your feet!
How can physical therapy in Huntington help?
If you suffer from arthritis in your knee and are looking to relieve the pain, look no further. At Island Sports Physical Therapy in Huntington, our team can help you learn exercises to do in and out of therapy. We will examine your knee to determine how we can create a treatment plan that'll lead you to success. So don't suffer through the pain of arthritis and get back to living your life to the fullest! Contact us today to set up your first appointment.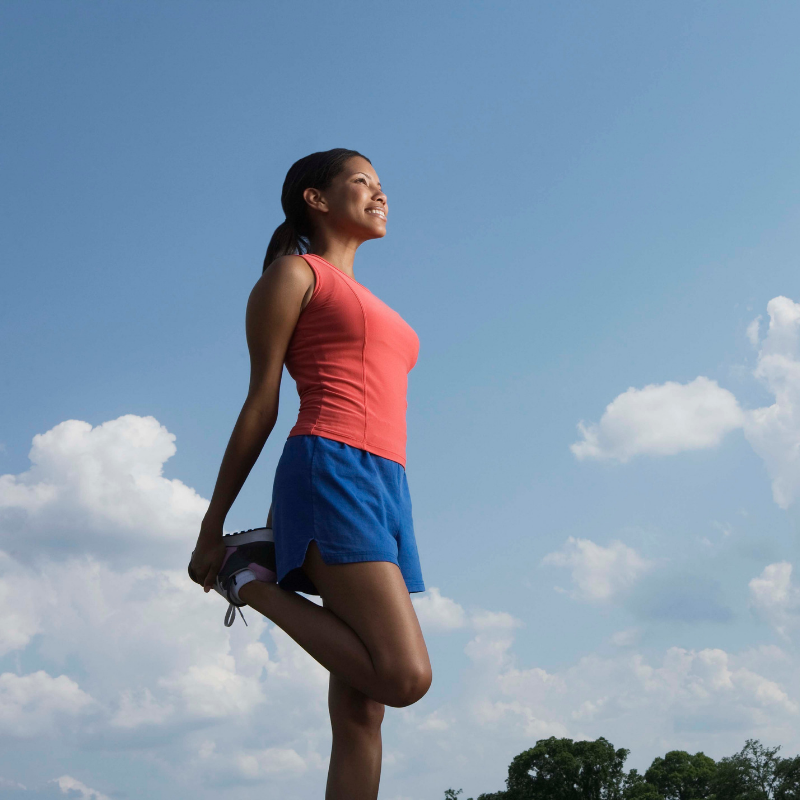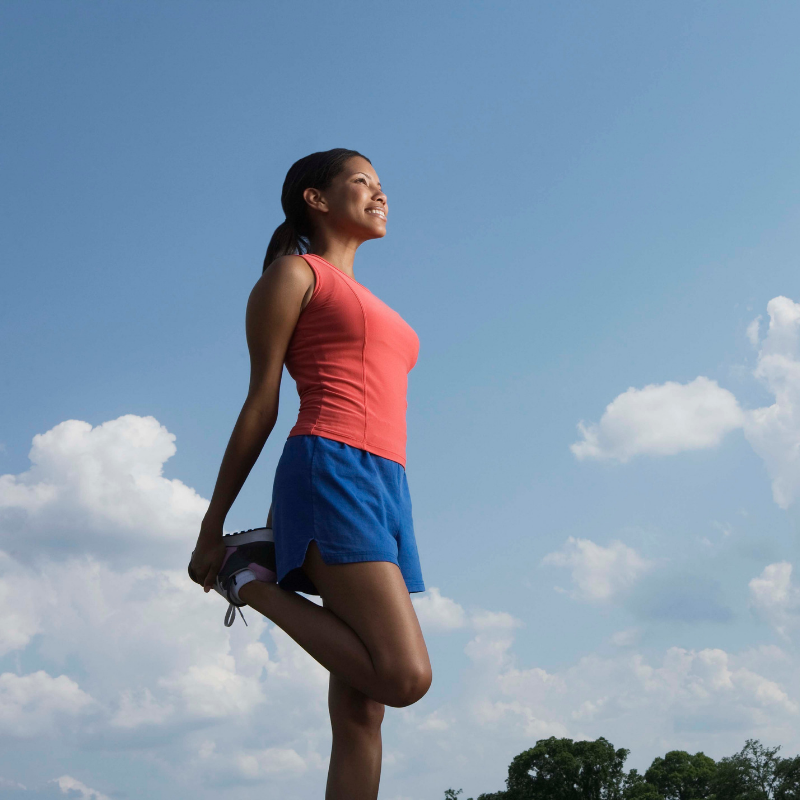 Get ready because Wednesday, September 25th is National Women's Health and Fitness Day! On this day, women of all ages are encouraged to be active and talk about how they can be physically active and healthy all year round. Local events celebrating the day occur all across the U.S. to provide women of all ages a place to get together, be active, and have fun! Here at Island Sports Physical Therapy, we always want to encourage our clients to be active and healthy and National Women's Health and Fitness Day is the perfect opportunity to talk about the best ways to be healthy and active regularly.
How you can celebrate:
There are so many ways you can participate in National Women's Health and Fitness Day! Here are some suggestions we have to participate:
Make sure the women in your life know about the day

– Tell your friends and family what is being celebrated and see if they want to join you in your activities.

Find a local event

– Thousands of events will be held throughout the U.S. such as health workshops or group physical activities. Look into what events your local areas are holding for the day.

Try something new

– whether its a new sport, activity, or food, use the day to try something new that you may have been nervous about trying or haven't thought of trying previously.

Exercise

– Go to the gym, go for a run or participate in your favorite sport or activity. Try to exercise for 30 minutes every day!

Schedule a checkup with your doctor

– Take this opportunity to schedule a regular checkup or any preventative screenings that you should be getting done depending on your age group to be sure that your body is healthy and happy.

Eat and drink healthy

– Focus on what foods and drinks you are putting into your body and how good they are for you. Avoid alcohol and focus on consuming whole nutrient-dense foods.

Stay hydrated

– Pay attention to how much water you are drinking. Try to drink at least eight cups of water a day however body weight and activity level will vary your optimal level.

Take time to acknowledge and check on your mental health

– Your mental health is so important and you deserve some time to make sure that your mental health is also being taken care of and get any help you may need.

Find small ways to be more active in your day to day schedule

– Maybe take the stairs instead of the elevator, go out for a walk during your lunch break, or park your car further away.

Get physical therapy if you are in pain

– Get the proper help and treatment you need to alleviate pain and heal from and injury or surgery so that you can return to an active and healthy lifestyle.
However, you decide to participate in National Women's Health and Fitness Day, use the day as a reminder of how important it is to be healthy and active and think about how you can incorporate new ways of being healthy and active into your daily routines.
Contact a Physical Therapist:
Island Sports Physical Therapy can help you get back to an active and healthy lifestyle if pain or injury is holding you back. If you need physical therapy, consider letting our experienced physical therapists create a personalized and effective plan to help you with your pain, mobility, or healing. Contact us for more information on how we can help you.
As an athlete, one of the best assets you can bring to your team is your strength. In order to have that strength, it is essential to take care of yourself. Otherwise, you risk the chance of injury, which can be detrimental to your season. Over the summer months, we may not be regularly exercising or working out as much as we would be during the year. This can lead to a greater chance of injury once it comes time to get back on the field this fall. Rather than taking the risk, why not build yourself up instead to be the best player possible come game time? Luckily, Island Sports Physical Therapy in Huntington can help you out with that. While many of us think of physical therapy as a way to recover from injury, we often forget that it is helpful too when you just want to stay healthy!
Benefits of Physical Therapy:
Below are some of the ways athletes can benefit from physical therapy in Huntington to stay game-ready this fall sports season:
Injury Prevention –

Everyone knows that physical therapy can be used to treat pain and discomfort, but did you know physical therapy can be used for prevention as well? By going to physical therapy in Huntington we can get an idea of what your current physical capabilities are, notice some areas in which they may be lacking, and improve them.

Works your core –

Your core

is responsible for so many of the movements we make daily, especially in sports. By having a strong core, you will be less likely to get injured, you'll look great on the field. and you'll have better balance. Which altogether will make you a better athlete.

Stretches –

As an athlete, your body works pretty hard to help you defeat your opponents. For that reason, it's important to stretch your body. Stretching will allow your body to recover faster and put your mind at ease. Plus,

stretching

can improve your range of motion.

Education –

In order to stay in shape, you have to work out. Although some workouts may be fairly easy, there are others in which bad form can put your body out of shape. Luckily, physical therapy in Huntington will teach and provide you with specific sports exercises and training equipment, along with guidelines on what works best for you and your athletic needs.
Schedule an appointment:
It is important to remember that injury is never 100% preventable, but with the help of physical therapy, you can become smarter when it comes to your sport. If you're interested in injury prevention or recovery services, contact us to set up an appointment to get started today!
Running is a great way to get your heart pumping and break a sweat. Almost anyone can partake in this activity in some capacity, and no expensive workout equipment is required. However, it is important to remember that injuries can occur while running if you aren't careful. That is why our team at Island Sports Physical Therapy would like to arm you with the information needed to prevent this from happening. To learn more about how to avoid injuries while running and to discover what can be done for treatment should one occur, please continue reading.
Common Running Injuries
Although it is a great way to stay in shape and improve your overall health, running can be taxing on the body. The repetitive nature of this exercise can lead to pain and injury in various areas. Some of the most common running injuries a person can face include:
Runner's knee.
Plantar fasciitis.
Stress fractures.
Shin splints.
Ankle sprains.
Muscular problems.
Back pain.
Prevention Methods
Nobody wants to have to spend their valuable time rehabbing from an injury. Luckily, there are steps you can take to avoid the need to do this. Our team of expert physical therapists are well-versed in this area and know exactly what you should do to stay out on the trail without issue. Below are a few examples of the top injury prevention methods for runners:
Always take time to stretch and warm-up before a run.
Only run in shoes that fit snuggly and offer proper ankle and arch support.
Replace each pair of running shoes after you've used them to run for roughly 350 miles.
When possible, avoid running on uneven surfaces.
If you begin to experience pain after a run, schedule a session of physical therapy to prevent the issue at hand from becoming a full-blown injury.
Physical Therapy
As previously stated, physical therapy can be used to help prevent minor pain and discomfort from becoming a full-blown injury. However, in times when an injury cannot be avoided, physical therapy can also be used for treatment. Through the use of various stretches and strengthening exercises, our physical therapists can help facilitate healing in the injured area. Physical therapy is a non-invasive option that works wonders when it comes to preventing the injury at hand from becoming a recurring one. In addition to exercises, physical therapy treatment can also consist of:
Electronic muscle stimulations.
Manual/massage therapy.
Heat and cold therapy.
Contact Us
Don't let an injury stop you from getting your exercise in. For more information about how to prevent common running injuries or to schedule an appointment for care, be sure to contact our team today!
Avoiding Winter Sports Injuries
As an athlete, avoiding injuries can be one of your main priorities. With darker days and colder temperatures, injuries can be more difficult to avoid in the winter than in the other seasons. At Island Sports Physical Therapy, we understand an athlete's need to stay in the competition. That is why we'd like to offer the below tips to help you avoid getting injured this winter sports season!  
Always Stay Hydrated: Making sure you stay hydrated is an important way to avoid injuries in general. Staying hydrated can help reduce the risk of suffering from muscle cramps and allows your body to properly regulate its temperature. The colder weather may have you feeling less thirsty than you normally would after a practice or a game. However, your body will still need you to replenish the fluids that were lost during this activity.
Keep Up With Your Conditioning: The colder temperature can make working out and conditioning less than ideal. You may have the urge to skip out on that extra training session, but this could be detrimental to your overall performance. Athletes always need to be in peak physical condition to excel at their given sport. Competing when you are out of shape skyrockets the risk of injury occurring.
Warm-Up/Cool-Down: Though overlooked by many athletes, taking the time to warm-up and cool-down can make all the difference between a successful game and early exit due to injury. Especially with colder temperatures, your muscles can be tighter and more rigid moments before your game or practice is set to begin. Jumping right into action can lead to serious injury. By warming up, you allow the blood flow and flexibility in your muscles to increase. Being loose will also help to increase your overall performance. A proper cool-down is just as important. Taking the time to cool-down allows your body to properly regulate its temperature, eliminating the risk of experiencing dizziness or fainting.
Dress Appropriately: Wintertime is the perfect opportunity to partake in outdoor sports such as skiing or snowboarding. While the slopes may already be calling your name, you need to make sure you're ready to participate. Dressing appropriately is imperative to avoiding injury. You need to dress not only warm but dry as well. Getting wet in the cold temperatures of winter will rapidly drop your body temperature and put you at risk for hypothermia.
The wintertime offers a plethora of sports and activities that can only be participated in during this time of year. There are also a host of injuries you can suffer from as well. The team at Island Sports Physical Therapy never wants an athlete to be sidelined as a result of an injury. If you have sustained one even after following our tips, be sure to contact us today to receive top-notch physical therapy as a treatment!
Before the colder weather rolls around, it is great to take advantage of those warm summer days. When the sun is shining, it is hard to resist getting outside as part of your day to day routine. Running is one of the best calorie-burning activities you can do. However, with extreme temperatures, there are some risks for staying in the blazing sun too long. While the weather should not deter you from getting some fresh air during your work out, it is important you are prepared for the rising temperatures!
Continue reading Safety Tips for Running in the Summer Heat →
With social distancing guidelines set to linger for at least the next few months, this summer is sure to be unlike any we have experienced before. However, for some, the joint pain experienced will remain the same. At Island Sports Physical Therapy, we understand the relationship between summer heat and joint pain, and our team is here to help you take the steps necessary to overcome it.
Heat And Humidity
Those dealing with conditions that cause chronic joint pain, such as arthritis, know about the issues summer can bring all too well. But why does the seasonal change lead to increased amounts of joint pain in some people? The answer lies within the heat and humidity of the summer. This combination can cause parts of your body to expand, leading to limited mobility and copious amounts of pain. The tissues that are most affected by this occurrence include:
Muscles.
Tendons.
Ligaments.
What Can Be Done?
You may think that there is nothing you can do about your summer joint pain. However, our team is happy to say that this is not the case. To best combat this problem, our expert staff recommends the following:
Manage your weight throughout the year to relieve pressure on your weight-bearing joints.
Try to stay active so your joints don't get too stiff, a common cause of pain.
Putting extra emphasis on hydration will help keep your joints lubricated.
Stay in air-conditioned areas whenever possible.
Treatment
If prevention methods offer no relief, there are still steps that can be taken to improve your summer joint pain. By utilizing the below methods, you can prevent your summer from being filled with joint problems:
Utilize the R.I.C.E (rest, ice, compression, and elevation) method on the affected joints to mitigate your pain.
Take over the counter pain medication or anti-inflammatories to help your symptoms subside.
Schedule an appointment with our team at Island Sports Physical Therapy so we can provide you with the care you need.
At Island Sports Physical Therapy, our team promises to always be there when you need us. If your summer joint pain continues to persist and becomes unbearable, be sure to contact us to get the care you need today!