What Are The Different Types of Physical Therapy?
What Is Physical Therapy?
Physical therapy is the practice of using physical medicine to help improve a patient's mobility and function. Physical therapists help patients prevent or manage their injuries, achieve function, restore ability, and maintain long-term benefits. Because physical therapists can treat such a wide range of people and conditions, it is broken down into specialties so that you can find the right medical professional that is experienced in handling your specific complication. If you are looking for physical therapy in East Meadow, our staff at Island Sports Physical Therapy is ready to help you start feeling better today. 
Different Types Of Physical Therapy:
The practice of physical therapy is broken down into many specialties, and even more sub-specialties. However, there are certain specialties of physical therapy that are often the main focus. These main specialties include the following:
Pediatric: This branch of physical therapy focuses on detecting, treating, and managing any issues, injuries, disorders, or diseases that affect the physical bodies of infants and children. This includes any problems associated with the muscles, bones, and joints of the patient. Pediatric physical therapists may also see adolescent patients as needed. Pediatric physical therapists help treat conditions such as cerebral palsy, torticollis, and spina bifida, as well as any acute injury a younger patient may be experiencing.
Geriatric: Physical therapists specializing in geriatric care focus on complications that arise as patients naturally age. Such complications typically include arthritis, Alzheimer's disease, hip and/or joint replacement and complications, and osteoporosis. These physical therapists create specialized therapy programs to help their patients regain mobility and reduce pain.
Orthopedic: Orthopedic physical therapists deal with complications within the musculoskeletal system. They manage and treat disorders and injuries, and they can assist with many surgical recoveries. If a patient has had complications or surgery affecting the muscles, joints, ligaments, tendons, or bones, then this type of physical therapy can assist. Examples of this include sports injuries, arthritis, tendonitis, fractures, and bursitis.
Cardiovascular Rehabilitation: These physical therapists deal with cardiopulmonary disorders and surgeries. The main goal of this type of physical therapy is to restore endurance and functional independence in patients. If you have recently had a heart attack or heart surgery, cardiovascular rehabilitation at our location for physical therapy in East Meadow can help expedite your recovery process.
Neurological: Therapists in this specialty work with patients who have neurological complications. Some examples of these complications include ASL, Parkinson's disease, cerebral palsy, spinal cord injuries, and/or stroke. These therapists work to reduce the effects of symptoms that may arise from these conditions, such as paralysis, loss of balance, and difficulty walking.
Sports: Sports physical therapists help athletes to recover from injuries sustained on the field. They work to analyze the cause of the injury and determine a treatment plan to help athletes return to their full potential after suffering from an injury. Common injuries treated by sports physical therapists include ACL injuries, tendon tears, and both simple and compound fractures.
Contact Us Today!
Physical therapists work to relieve many different types of ailments and symptoms experienced by a wide range of people. Because the field of physical therapy is so extensive and can benefit a large number of patients, physical therapists often specialize in treating specific issues or age groups to be able to better help their patients. If you require physical therapy in East Meadow, contact us us at Island Sports Physical Therapy and see how we can help you attain optimal wellness.  
Island Sports Physical Therapy has been recognized as one of the Top 60 Physical Therapy Blogs on the web!
Physical Therapy for Vestibular Conditions
Your vestibular system includes the parts of the brain and inner ear that help control both eye movements and balance. In a recent epidemiological study, it was found that approximately 69 million Americans have experienced a form of vestibular dysfunction. Essentially, your vestibular system is a central part of your functioning abilities. When damage or disease is infiltrating these areas, not only do you feel the effect it has on your body, but you will also experience difficulties when it comes to performing day-to-day tasks. If you or someone you know is suffering from a vestibular disorder, know there is a way you can ease your symptoms. With the help of physical therapy in Huntington, you can learn how to treat many of the negative symptoms yourself through exercise.
Common Symptoms:
The symptoms of vestibular disorders can be broken down depending on the type and severity of them. When visiting physical therapy in Huntington, make sure you fully describe the symptoms you are experiencing so they can help properly diagnose your disorder:
Vertigo – If you are suffering from vertigo you likely feel dizzy, or that the world around you is spinning. You may also feel lightheaded or a rocking sensation while sitting still or with certain movements.
Balance and Spatial Orientation – You often feel an imbalance, have difficulty walking straight or even stumble frequently. You also may struggle with coordination or tend to hold onto something while standing.
Vision Issues – If your experience symptoms involving your vision, you may feel discomfort in busy visual environments, have a sensitivity to light, poor depth perception, and have trouble focusing or tracking objects.
Hearing Issues – You may hear a ringing, roaring, or buzzing in your ear. It is also likely that you have a sensitivity to loud noises or environments.
If you suffer from any of the following symptoms, a physical therapist at Island Sports Physical Therapy in Huntington can then devise a personalized treatment plan based on your needs.
How can physical therapy in Huntington help?
Vestibular rehabilitation is a specialized form of therapy that will target both primary and secondary problems caused by vestibular disorders. Your physical therapist will create an exercise program that can incorporate the following:
Visual cues
Somatosensory cues
Stationary positions
Dynamic movements
Coordinated movements

Ones that target the ankles, hips, or both

Dual tasks

Ones that involve balancing at the same time
At Island Sports Physical Therapy in Huntington, we offer a variety of services, including vestibular therapy, to help patients manage pain and reduce the many symptoms that come along with vestibular disorders. To learn more about our services, or how you can get a personalized treatment program just for you, contact us today!
NATIONAL PHYSICAL THERAPY MONTH
With the warm weather beginning to dissipate, those in the community may not be as willing to participate in exercise/outdoor activity. For patients, this could be an issue, as a lack of physical activity can lead to injury or deteriorations of health. One of the many national health observances that's recognized throughout the month of October is National Physical Therapy Month. The goal of this observance is to help raise awareness in regards to physical therapy and the role these therapists play in helping patients find pain relief, improve mobility and functionality, and live an overall healthier life. If you have been considering physical therapy as a treatment option, then look no further than Island Sports Physical Therapy in East Meadow. For years, we have been treating patients with specialized methods and have provided comprehensive evaluations. Essentially, there is no better time to stop by then during October, as we encourage all of our patients and their families to get involved and partake in healthy activities this month.
Benefits of physical therapy:
Aside from serving as a potential alternative treatment method for surgery and medications, the following benefits also come along with physical therapy treatment:
Pain management.
Possibly avoiding surgery.
Improved mobility.
Improved movement.
Injury recovery.
Fall prevention.
Stroke or Paralysis recovery.
Improved balance.
Proper management of age-related complications.
Common conditions treated by physical therapy:
A physical therapist can work directly with you and assist in any stage of the healing process. Whether you have just been diagnosed, or have recently started your recovery process, physical therapy in East Meadow can serve as your primary beneficiary. Depending on your reasoning for signing up, a physical therapist will construct an exercise-based treatment plan, along with self-management recommendations, that can help you succeed and attain the goals that you're targeting. Someone who is seeking out physical therapy will typically suffer from one of the following conditions:
Cardiopulmonary Conditions
Hand Therapy

ex): Carpal Tunnel Syndrome or Trigger Finger

Musculoskeletal Dysfunction

ex): Back pain, rotator cuff tears, or TMJ

Neurological Conditions

ex): Stroke, Parkinson's Disease, injury to the spinal cord, MS, vestibular dysfunction, or traumatic brain injuries

Pediatric Conditions

ex): Developmental delays, CP, or muscular dystrophy

Sports-related Injuries

ex): Concussion or Tennis Elbow

Women's Health and Pelvic Floor Dysfunction

ex): urinary incontinence or lymphedema
How can physical therapy in East Meadow help?
At Island Sports Physical Therapy, you can find the personalized care you deserve. If you suffer from any of the above conditions, or just want to work on managing your overall health, we can help! We offer a variety of services that can offer you the individualized treatment you need, including some of the following:
Orthopedic Care.
Spinal Rehabilitation.
Sports Specific Therapy.
Geriatric Rehabilitation.
Children's Injuries.
Fitness Programming.
For more information on how you can begin physical therapy in East Meadow, visit our website or give us a call to schedule your appointment!
Arthritis is one of the most common causes of knee pain. The condition itself is often very uncomfortable and can be tricky to deal with. It can make just taking a step or walking to the bathroom extremely painful, and nobody wants that. Fortunately, with the help and guidance of physical therapy in Huntington, you can learn how to minimize your pain and get back to your day to day life. At Island Sports Physical Therapy, our team is here to help you during your appointments as well as offer you tips and techniques to use while at home to treat your arthritis.
Symptoms:
Typically the symptoms of arthritis will progress over time. The location of your arthritis in your body will determine which types of symptoms you have. No matter where you have it though, it is important to start treatment sooner rather than later. Some of the more common symptoms of knee arthritis may include:
Pain when doing activities

A small range of motion

Swelling or stiffness of joint

Tenderness in knee

Deformity of joint

Feeling that your knee is about to, "

give out

"
Exercises:
One of the best ways to help reduce the pain of knee arthritis is to regularly stretch and engage in exercise. No matter how simple the exercise may be, the benefits will still be there. While at physical therapy in Huntington, a PT may provide you with some of the following exercises to ease the pain of your symptoms:
Straight leg raise

– helps build up muscle strength to assist with weak joints

Seated hip march

– this will strengthen your hips/thigh muscles; which is beneficial for performing everyday tasks.

Pillow squeeze

– will strengthen the inside of your legs which will help support your knees.

Sit to stand

– will make standing easier on your knees.

One leg balance

– this can help you bend over/help get in and out of cars easier.

Step-ups

– will strengthen your legs so you can easily climb steps

Walking

– this can ease your joint pain, strengthen your leg muscles, and improve your posture.

Swimming

– will take the weight off painful joints.
Performing these exercises both at home and at physical therapy in Huntington will help decrease your arthritis pain and get you back on your feet!
How can physical therapy in Huntington help?
If you suffer from arthritis in your knee and are looking to relieve the pain, look no further. At Island Sports Physical Therapy in Huntington, our team can help you learn exercises to do in and out of therapy. We will examine your knee to determine how we can create a treatment plan that'll lead you to success. So don't suffer through the pain of arthritis and get back to living your life to the fullest! Contact us today to set up your first appointment.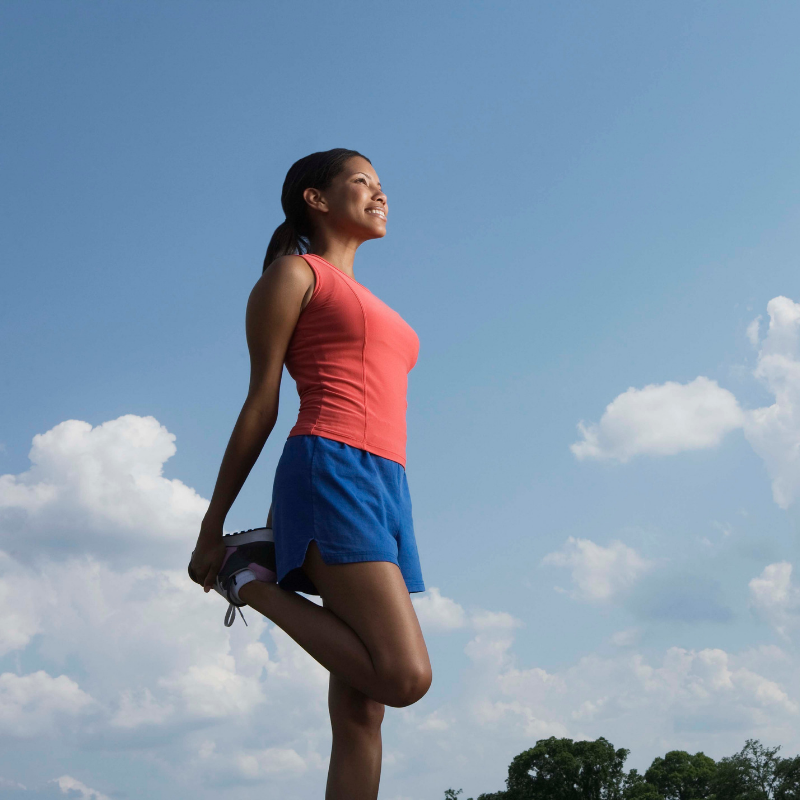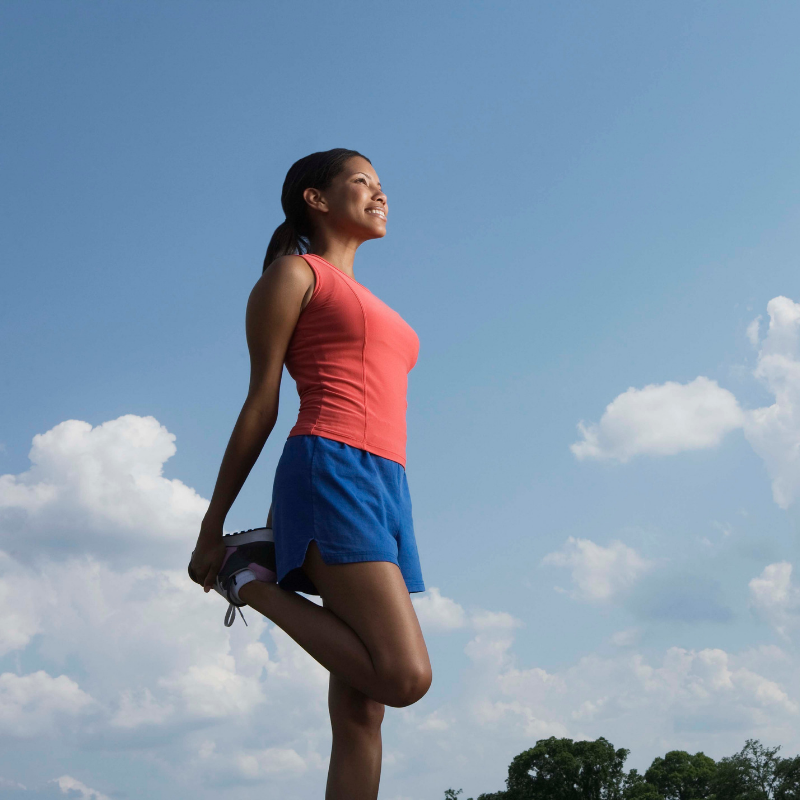 Get ready because Wednesday, September 25th is National Women's Health and Fitness Day! On this day, women of all ages are encouraged to be active and talk about how they can be physically active and healthy all year round. Local events celebrating the day occur all across the U.S. to provide women of all ages a place to get together, be active, and have fun! Here at Island Sports Physical Therapy, we always want to encourage our clients to be active and healthy and National Women's Health and Fitness Day is the perfect opportunity to talk about the best ways to be healthy and active regularly.
How you can celebrate:
There are so many ways you can participate in National Women's Health and Fitness Day! Here are some suggestions we have to participate:
Make sure the women in your life know about the day

– Tell your friends and family what is being celebrated and see if they want to join you in your activities.

Find a local event

– Thousands of events will be held throughout the U.S. such as health workshops or group physical activities. Look into what events your local areas are holding for the day.

Try something new

– whether its a new sport, activity, or food, use the day to try something new that you may have been nervous about trying or haven't thought of trying previously.

Exercise

– Go to the gym, go for a run or participate in your favorite sport or activity. Try to exercise for 30 minutes every day!

Schedule a checkup with your doctor

– Take this opportunity to schedule a regular checkup or any preventative screenings that you should be getting done depending on your age group to be sure that your body is healthy and happy.

Eat and drink healthy

– Focus on what foods and drinks you are putting into your body and how good they are for you. Avoid alcohol and focus on consuming whole nutrient-dense foods.

Stay hydrated

– Pay attention to how much water you are drinking. Try to drink at least eight cups of water a day however body weight and activity level will vary your optimal level.

Take time to acknowledge and check on your mental health

– Your mental health is so important and you deserve some time to make sure that your mental health is also being taken care of and get any help you may need.

Find small ways to be more active in your day to day schedule

– Maybe take the stairs instead of the elevator, go out for a walk during your lunch break, or park your car further away.

Get physical therapy if you are in pain

– Get the proper help and treatment you need to alleviate pain and heal from and injury or surgery so that you can return to an active and healthy lifestyle.
However, you decide to participate in National Women's Health and Fitness Day, use the day as a reminder of how important it is to be healthy and active and think about how you can incorporate new ways of being healthy and active into your daily routines.
Contact a Physical Therapist:
Island Sports Physical Therapy can help you get back to an active and healthy lifestyle if pain or injury is holding you back. If you need physical therapy, consider letting our experienced physical therapists create a personalized and effective plan to help you with your pain, mobility, or healing. Contact us for more information on how we can help you.
As an athlete, one of the best assets you can bring to your team is your strength. In order to have that strength, it is essential to take care of yourself. Otherwise, you risk the chance of injury, which can be detrimental to your season. Over the summer months, we may not be regularly exercising or working out as much as we would be during the year. This can lead to a greater chance of injury once it comes time to get back on the field this fall. Rather than taking the risk, why not build yourself up instead to be the best player possible come game time? Luckily, Island Sports Physical Therapy in Huntington can help you out with that. While many of us think of physical therapy as a way to recover from injury, we often forget that it is helpful too when you just want to stay healthy!
Benefits of Physical Therapy:
Below are some of the ways athletes can benefit from physical therapy in Huntington to stay game-ready this fall sports season:
Injury Prevention –

Everyone knows that physical therapy can be used to treat pain and discomfort, but did you know physical therapy can be used for prevention as well? By going to physical therapy in Huntington we can get an idea of what your current physical capabilities are, notice some areas in which they may be lacking, and improve them.

Works your core –

Your core

is responsible for so many of the movements we make daily, especially in sports. By having a strong core, you will be less likely to get injured, you'll look great on the field. and you'll have better balance. Which altogether will make you a better athlete.

Stretches –

As an athlete, your body works pretty hard to help you defeat your opponents. For that reason, it's important to stretch your body. Stretching will allow your body to recover faster and put your mind at ease. Plus,

stretching

can improve your range of motion.

Education –

In order to stay in shape, you have to work out. Although some workouts may be fairly easy, there are others in which bad form can put your body out of shape. Luckily, physical therapy in Huntington will teach and provide you with specific sports exercises and training equipment, along with guidelines on what works best for you and your athletic needs.
Schedule an appointment:
It is important to remember that injury is never 100% preventable, but with the help of physical therapy, you can become smarter when it comes to your sport. If you're interested in injury prevention or recovery services, contact us to set up an appointment to get started today!
Before the colder weather rolls around, it is great to take advantage of those warm summer days. When the sun is shining, it is hard to resist getting outside as part of your day to day routine. Running is one of the best calorie-burning activities you can do. However, with extreme temperatures, there are some risks for staying in the blazing sun too long. While the weather should not deter you from getting some fresh air during your work out, it is important you are prepared for the rising temperatures!
Continue reading Safety Tips for Running in the Summer Heat →
This October, Island Sports Physical Therapy urges you to celebrate National Physical Therapy Month! The goal of this month is to spread awareness about the many benefits of physical therapy and how it can help those suffering from chronic pain to avoid taking medications or getting extensive surgeries. Often, people who suffer from injuries or chronic pain consider medications and surgery as the best options, but physical therapy can often be more effective in treating their pain. National Physical Therapy month is recognized as a way to inform more people about the many benefits of opting for physical therapy as opposed to other unnecessary treatment options. Additionally, this month celebrates the hard work that physical therapists do for those in pain all across the nation.

In honor of National Physical Therapy Month, we want to highlight some of the benefits that can result from physical therapy. Many of these benefits can only be obtained through physical therapy, as opposed to other options. Among the many benefits of physical therapy are:

Avoiding surgery: Although surgery is often unavoidable, physical therapy can, in some cases, help you avoid surgery. Physical therapy helps to eliminate pain, prevent further injury, assist in healing, and improve your overall physical health. Physical therapy can also heal injured tissues, preventing you from going under the knife. Even if you have surgery, physical therapy can help you recover and become active again.
Natural pain relief: Physical therapy is a natural alternative to pain relief, unlike many opioids or pain-relieving medications that can become addicting. People who experience pain also take anti-inflammatory medications or pain killers because it is believed to be the least intrusive approach. However, physical therapists can help you locate the source and cause of your pain. Physical therapists can show you several exercises that can help you mobilize your joints and muscles.
Preventing future injury: Physical therapists assess your weaknesses during each session. By doing this, physical therapists can create an exercise plan that's tailored to your needs. As they analyze your weaknesses, a physical therapist can predict how likely you will be prone to injury and where the injury is likely to occur.
Improved athletic performance: Physical therapy can improve your performance while playing sports. Aside from providing pain relief for athletes, physical therapy can increase your muscle strength and endurance. Physical therapy can also improve mobility, balance, flexibility, and circulation in the body.
With all of the benefits associated with Physical Therapy, it is no surprise that there is an entire month dedicated to the craft. At Island Sports Physical Therapy, we will be celebrating physical therapy this month and beyond, and we hope that you will too!

Contrary to what may be initially anticipated, rowing can be a highly intense sport and it certainly requires the use of various muscle groups. Are you sore from rowing and need to seek physical therapy to help strengthen your muscles? Island Sports Physical Therapy in Huntington, NY can provide you with strengthening programs that adequately get your necessary muscle groups prepared for hitting the water. Please feel free to contact us if you would like to make an appointment for your injuries or sore muscles. For readers who are interested in the sport of rowing, please continue looking through this article.
What is rowing?
Rowing is a strenuous sport that has participants race through a body of water with the help of a boat and an oar. The rower uses the oar to glide themselves across the water by consistently moving forward and backward with their arms. Rowers typically race one another to the finish line and can race for miles on end. Historically speaking, rowing had originated back in Egypt, Greece, and Rome as a mode of transportation. As time went on, it eventually became a sport in England during the 17th and 18th centuries. With the turn of the 19th century, rowing then became popularized across the globe, including in the U.S. Rowing is not known as a contact sport, but it can cause injuries to the rower if they don't stretch or exercise properly.
Injuries
Despite the lack of physical contact, rowing can still cause injury to the body through ordinary wear and tear. The rower is maintaining proper positioning by sitting in the boat and using various muscle groups to help accomplish their goal of winning the race. With extensive hours of training, injuries are inevitable, especially if the rowers don't take care of their body's properly. Some injuries that can occur from rowing may include the following:
Lower back pain.

Knee pain.

Extensor Tenosynovitis of the wrist (occurs mostly at the beginning of spring and causes major swelling and pain in the wrist).

Stress fractures in the ribs.
What's a blessing and a curse about rowing is that it requires the use of many different muscle groups all at once. Muscles around your body are steadily being used as a result of the back and forth motion. Some of the muscle groups that are used while rowing includes the following:
Erector Spinae.

Rectus Abdominus.

Triceps.

Rhomboids.

Deltoids.

Trapezius.

Pectoralis Major.

Wrist Extensors and Flexors.

Quadriceps.

Glutes.

Hamstrings.

Gastrocnemius.

Soleus.
Maintaining your key strength within these muscle groups is essential for making you an elite competitor in this sport. By getting physical therapy in Huntington, NY, you can rest assured that your body is at peak physical condition when it's time to head back out onto the boat with your teammates. Physical therapists can also target the specific muscle groups that are required in rowing, promoting strength in your back, shoulders, and other areas.
Our specialists at Island Sports Physical Therapy in Huntington, NY can ensure that if you are in pain from rowing, they can assist you and get you ready for the next race.
Are you a multi-sport athlete? Due to the immediate jumps from season to season, you're likely going to experience an injury every so often. Thankfully, a key component of physical therapy is that it's able to provide athletes with increased levels of injury prevention. In addition, other unique benefits of undergoing physical therapy in Huntington, NY can also be accommodated. At Island Sports Physical Therapy, we offer several services for various different athletes who require assistance getting back on the field or court. Contact us today to make an appointment to improve your health and strengthen your body, preparing you for the grueling stretch run.
Benefits
If you're an athlete that is always playing in long games and or constantly moving, it is important to make sure that everything in your musculoskeletal system is working properly. When it comes to sports, injuries are an unfortunate inevitability. Making sure you take care of your body and muscles through maintenance is crucial for any athlete. Fortunately, there are many benefits of visiting a physical therapist that is personally trained in sports medicine. Some of these benefits can include the following:
Pain reduction and the ability to protect the body from discomfort.

Promoting endurance through the use of building muscle.

Alternative to surgery (depending on the injury).

Enhanced mobility and movements skills (essential for any athlete).
With the help of physical therapy, patients can be provided with a concise plan of attack for their specific injury. Physical therapists specialize in many different techniques, allowing them to target areas of the body that have been experiencing discomfort. Athletes who endure symptoms related to chronic pain may find relief with the help of a physical therapist. Naturally, attempting to participate in any sport-related activity can be made an arduous task if you're consistently feeling uncomfortable and in pain.
Services
For physical therapy in Huntington, NY, ISPT offers a multitude of services for patients of all sports and most age groups. Sports medicine has become an essential aspect of our practice, allowing us to make sure that each patient's health is the top priority. Some of the services that are offered at Island Sports Therapy include:
Orthopedics.

Spinal Rehabilitation.

Geriatric Rehabilitation.

Children's Injuries.

Fitness Programming.
Our practice prides itself on our ability to help athletes maintain a strong foundation and enhance their ability to prevent injuries. Sports injuries are quite common for the average athlete. With the help of our therapy program, we can factor in what sport you play and what areas of the body undergo the most stress as a result of the muscle groups that are used. In other words, we can develop an entirely customized routine for whatever athletes walk through our doors.
Sports Injuries
The unfortunate truth is that the competitor within ourselves can force us to play through, and experience, an injury. While playing sports, or even engaging in any physical activity, you need to make sure that you are aware of what you are doing to your body. External factors such as the environment in which you're playing also need to be taken into consideration. For a list of some of the most common sports injuries, please consider the following:
Sprained Ankle.

Strained Hamstring.

Pulled Groin.

Shin Splints.

Knee Injuries.
A common theme with these lower-body injuries is that they can be experienced after engaging in sharp turns or a sudden change of motion. Think of a running back in football making an awkward cut to avoid a defender. For some athletes, this can feel as though it's an unnatural movement. With the help of sports medicine, we can provide you with stretching techniques that allow your knees and other joints to be more flexible, thus promoting injury prevention.
If you are experiencing any of these injuries, it is important to make sure you receive quality physical therapy in Huntington, NY here at Island Sports Physical Therapy. Getting back into the game, pain-free is our primary goal as a practice.