About Island Sports Physical Therapy Garden City, NY
Our work is challenging and we prefer it that way. Combining competence… compassion… and good old-fashioned "hard work", we do our most to help each individual achieve their rehabilitative goals. I truly believe that our facilities and staff are successful due to the consistency in offering quality "hands-on" care and personal supervision that is left out in other centers. That's why we offer our clients quality physical therapy in Garden City, NY.
At Island Sports Physical Therapy, it is our belief that patients need and deserve education along with their sophisticated sports medicine science and treatment. Equipment alone does not make people better. The intelligent use of education, coupled with exercise and home program development to fit each individual's needs, is the backbone of our success.
Our hope is that our patients don't just recover… but they prevent future re-injury and obtain the maximum performance possible.
Island Sports Physical Therapy in East Meadow is a friendly and caring professional practice that provides an encouraging environment to attain all of your goals. Visit Island Sports Physical Therapy in East Meadow today and get the treatment you need. Our team will help create a specific plan that is catered to your needs and will get you back to feeling happy and healthy as soon as possible. Physical Therapy can also be a great help even when you're not injured because you can work your body in certain ways to keep yourself protected and help prevent any future injuries.
Physical therapy can also benefit those who are recovering from sports-related injuries, as our physical therapists will provide you with treatment and help prevent/avoid any further damage to your body. Our specialized fitness programs invoke a strategic plan to treat the affected area and get you back to feeling normal as soon as possible. We also have services that can be used in an effective way to serve as an alternative to some surgeries (if applicable) or help you recover/heal from surgery as part of our post-surgical rehabilitation.
Physical Therapy can also provide services to help improve your balance and prevent falls if you are at risk of falling. This is done through our vestibular rehabilitation services. Our staff here at our East Meadow location can also help manage heart and lung disease by educating patients on proper workout regimens and nutritional habits. Physical therapy has an extremely wide range of beneficial options for improving the body and the way it works. The East Meadow Location Specializes in
Joint Replacement
Gait Analysis
McConnell Taping
Active Release Therapy
Vestibular Therapy
Services Available at Our Garden City Location
Please use the form below to send us an email:
By Submitting This Form, You Are Consenting Us To Retain Your Information For Further Communication. Your Information Is Not Shared With Any Unaffiliated Third Parties.
What Are The Different Types of Physical Therapy in Garden City NY?
Physical therapy is the practice of using physical medicine to help improve a patient's mobility and function. Physical therapists help patients prevent or manage their injuries, achieve function, restore ability, and maintain long-term benefits. Because physical therapists can treat such a wide range of people and conditions, it is broken down into specialties so that you can find the right medical professional that is experienced in handling your specific complication. If you are looking for physical therapy in Garden City, our staff at Island Sports Physical Therapy is ready to help you start feeling better today.
Different Types Of Physical Therapy:
The practice of physical therapy is broken down into many specialties, and even more sub-specialties. However, there are certain specialties of physical therapy that are often the main focus. These main specialties include the following:
Pediatric: This branch of physical therapy focuses on detecting, treating, and managing any issues, injuries, disorders, or diseases that affect the physical bodies of infants and children. This includes any problems associated with the muscles, bones, and joints of the patient. Pediatric physical therapists may also see adolescent patients as needed. Pediatric physical therapists help treat conditions such as cerebral palsy, torticollis, and spina bifida, as well as any acute injury a younger patient may be experiencing.
Geriatric: Physical therapists specializing in geriatric care focus on complications that arise as patients naturally age. Such complications typically include arthritis, Alzheimer's disease, hip and/or joint replacement and complications, and osteoporosis. These physical therapists create specialized therapy programs to help their patients regain mobility and reduce pain.
Orthopedic: Orthopedic physical therapists deal with complications within the musculoskeletal system. They manage and treat disorders and injuries, and they can assist with many surgical recoveries. If a patient has had complications or surgery affecting the muscles, joints, ligaments, tendons, or bones, then this type of physical therapy can assist. Examples of this include sports injuries, arthritis, tendonitis, fractures, and bursitis.
Cardiovascular Rehabilitation: These physical therapists deal with cardiopulmonary disorders and surgeries. The main goal of this type of physical therapy is to restore endurance and functional independence in patients. If you have recently had a heart attack or heart surgery, cardiovascular rehabilitation at our location for physical therapy Garden City can help expedite your recovery process.
Neurological: Therapists in this specialty work with patients who have neurological complications. Some examples of these complications include ASL, Parkinson's disease, cerebral palsy, spinal cord injuries, and/or stroke. These therapists work to reduce the effects of symptoms that may arise from these conditions, such as paralysis, loss of balance, and difficulty walking.
Sports: Sports physical therapists help athletes to recover from injuries sustained on the field. They work to analyze the cause of the injury and determine a treatment plan to help athletes return to their full potential after suffering from an injury. Common injuries treated by sports physical therapists include ACL injuries, tendon tears, and both simple and compound fractures.
Contact Us For Physical Therapy in Garden City, NY!
Physical therapists work to relieve many different types of ailments and symptoms experienced by a wide range of people. Because the field of physical therapy is so extensive and can benefit a large number of patients, physical therapists often specialize in treating specific issues or age groups to be able to better help their patients. If you require physical therapy in Garden City, contact us us at Island Sports Physical Therapy and see how we can help you attain optimal wellness.
Recovering From A Torn ACL
Your anterior cruciate ligament, or ACL, is an essential ligament that provides stability to the knee joint. This ligament is one of the most commonly injured areas of the knee, so proper care and precautions are vital for maintenance. Regardless of how you sustained a tear in your ACL, our team at Island Sports Physical Therapy will be there for you throughout the recovery process. We offer personalized treatment plans for a variety of sports-related injuries and other conditions.
ACL Surgery:
Most commonly, an ACL tear requires surgery. For example, if your knee buckles when putting weight on it or if you are an athlete, your doctor will most likely determine that surgery is necessary for proper treatment. During the procedure, the surgeon will remove the ligament and use a graft as a replacement. This graft will be comprised of tendon taken from another part of the body, usually the knee or hamstring. In most cases, you will be able to return home later that day, depending upon the severity and the preferences of yourself and the surgeon. Once the surgery has been completed, the next steps towards recovery will be to partake in physical therapy Garden City, NY.
Length Of Recovery:
Depending on the severity of the injury, recovery time will vary from patient to patient. For some, the typical recovery period is six to nine months after surgery. For others, it may take between eight months and a full year to make a complete recovery. At Island Sports Physical Therapy, you can undergo physical therapy Garden City, NY to help expedite your recovery time and get you back to doing what you love.
Treatment – Physical Therapy Garden City, NY
Taking part in physical therapy after surgery will help to restore strength and stability in the knee. The goals of physical therapy Garden City, NY are divided into four phases, which are outlined below:
1. Helping To Heal the Knee: Phase one is all about protection and healing. The main goals are to start the process of restoring range of motion and regaining correct usage of your quadriceps muscles. You will learn to walk properly with your crutches and may even receive neuromuscular electrical stimulation to improve your ability to gently contract your knee.
2. Tossing the Crutches: The goal of this phase is to limit the use of crutches while still protecting the knee. During this phase, exercises to improve control of your quadriceps and increase the strength of your hips and hamstrings will be incorporated into your routine. Hopefully, performing these exercises will allow you to begin walking normally again.
3. Getting Stronger: During this phase, the goal is to build up enough strength to begin walking or even lightly jogging. This will be the time where your physical therapist will test the integrity of the repaired knee. If you are pain-free and it is determined that your knee is stable, you may be allowed to begin jogging.
4. Almost Back To Normal: In this final phase of physical therapy, running and normal physical activity can slowly be incorporated back into your life. However, it is important to remember not to overdo this, as pushing too hard can often reverse any progress you have made.
Island Sports Physical Therapy in Garden City, NY
Throughout the rehabilitation and recovery process, it is important to listen to your body. Some patients may be ahead of schedule while recovering, while for others it may take longer than usual. At Island Sports Physical Therapy, our team will work to develop the perfect recovery plan to get you back on your feet. We can help you reach your recovery goals within a safe and appropriate timeframe. Don't hesitate to schedule an appointment with us to begin your journey to recovery today!
Physical Therapy For Promoting Good Heart Health
The heart is the center of the cardiovascular system and is responsible for most of the functions keeping us alive, therefore making sure it's in tip-top shape is crucial. There are many ways in which we can sustain good heart health. Whether it's through diet and exercise or following up with a cardiologist. These are all measures we can take to help promote a healthy heart and lifestyle for years to come. Our physical therapy Garden City, NY can help you!
Physical Therapy and a Healthy Heart
Physical therapy has been proven to play a key role in sustaining good heart health. By incorporating both strategic diet plans and workout regimes to boost cardiovascular health, it can help prevent and strengthen one's heart. If you are looking to help boost your own heart health, check out physical therapy Garden City, NY at Island Sports Physical Therapy. Here, we can help provide you with the tools and knowledge necessary to help keep your heart in the best shape possible!
Diet
A cardiac diet typically consists of a meal plan with wholesome and fresh foods. It also places emphasis on making sure to eat moderate portions throughout the day. Here is a list of some cardiac-friendly foods:
Spinach
Oats
Salmon
Pistachios
Blueberries
Broccoli
Asparagus
Tuna
Olive and Peanut Oils (in moderation, of course)
These foods are typically low in fat and sodium, all while containing higher amounts of protein and fiber. By eating lower-fat and unprocessed foods this can help keep cholesterol levels and blood pressure low. Some of the main foods to avoid are processed or "packaged" snacks, canned vegetables, and foods containing high amounts of trans/saturated fats, sodium, or sugar. Determining what to eat and what not to eat can be difficult at times. Physical Therapists can help ease this process by assessing a patient's current diet and determining what needs to be substituted or eliminated.
Exercise
It's called "cardio" for a reason. Exercise is one of the main ways a person can better their heart health. It's recommended that a person does 30 minutes of exercise at least five times a week. This can mean a brisk walk or even resistance training at the gym. The main goal of exercising for cardiac health is to get the heart rate up. By doing just a little each day, it can have major health benefits on your heart. Here's a list of exercises you can do to help get that heart rate up:
Cardio- walking, jogging, running, biking or swimming
Stretching
Strength Training – incorporating weights or bodyweight (yoga)
Physical Therapy in Garden City NY
If you've been searching for physical therapy Garden City, NY, visit Island Sports Physical Therapy. These skilled physical therapists can help assess your current weight/diet plan and help you make adjustments to improve your heart health. They can also suggest a workout regime specific to your needs. Don't wait! Start your journey to better heart health today!
Proper Sitting Posture at Your Computer
Are you constantly sitting at your desk and staring at your computer screen? Do you ever begin to feel discomfort in your back or your neck? This could be due to poor posture. We may not even realize when we are slouching in our chairs because we are so used to one position that is most comfortable to us. It is not always easy to correct posture. Poor posture can lead to problems later on in life so that is why Island Sports Physical Therapy in Garden City NY is here to help you!
How do I keep good posture?
Maintaining a good posture is something that needs to be worked on whenever you are sitting down. Allowing yourself to sit in a different way will help your body become used to that specific position. As easy as it is to slouch, you have to keep telling yourself to sit up straight and keep your shoulders back. Body weight should be even as you are trying to maintain a good posture.If you are leaning to one side, you are not even in body weight. It is best to keep your feet flat on the floor aligned with your hips as you are trying to sit straight up. Crossing your legs in any  way will cause your body to become out of alignment and this will affect your posture. Sometimes we do not even realize our posture is bad because we are so into what we are doing on the computer. It is also important that when you are sitting and working at your computer, to have a comfortable chair. This could be a reason why you are not comfortable while sitting at your computer.
How will good posture affect me?
A good posture is better for your health more so than slouching. Continuing on with good posture will help keep your bones aligned properly which will slim your chances to strains in your muscles and cause less pain. It will also help ease tension in your muscles. It will help keep your muscles strong and allow them to have the right amount of energy needed to keep your posture in line. Discomfort takes away energy. Let alone the better posture while sitting at your computer, it will benefit you when walking, and standing as well.
What will poor posture do to my body?
If you are constantly slouching over at your computer, you may begin to feel a pain in your lower back or up your back and into your neck. It feels like you are straining your muscles and that is never a comfortable feeling. This can also cause you to get headaches often because of the amount of pressure resting on your muscles from horrible posture. But from all of the pressure built up in your muscles causing headaches, Island Sports Physical Therapy in Garden City NY provides services to help relieve pain all throughout your back. They will help you gain strength back in fatigued muscles and show you the right way to maintain a healthier lifestyle.
Contact Us For Physical Therapy in Garden City NY
At our physical therapy office on Long Island, we are here to provide you with the best services you need in order to feel good as new. We have the best hands on care and provide the best treatments on Long Island for any injury or pain you may be suffering from like poor posture. We are here to help you! For additional information about what we have to offer, please check out our website!
The Most Common Basketball Injuries
Basketball is a fun, competitive, and very popular sport for people of all ages. It is also a sport that carries with it many injuries that players constantly suffer from. Whether it may be youth league, to high school, college, or even the pros, basketball injuries linger anywhere the game is played. If you're searching for physical therapy Garden City, NY to help treat your basketball related injury, then Island Sports Physical Therapy is here to help you get back on the court.
Basketball Injuries
As fun as basketball can be, there is a risk of injury any time you play. More than 200,000 basketball-related injuries are reported each year for people under the age of 15 which require trips to the hospital. Many injuries are usually minor, including cuts, sprains, and strains.
The most susceptible areas to injury are the ankle and knee, where players can injure themselves by rolling an ankle, getting hit in an awkward position, or being accidentally stepped on. In order to help prevent ankle and foot injuries, it is important to have proper footwear, preferably a high top sneaker that helps support the ankle; even adding athletic tape if you are prone to an ankle injury.
Hip and thigh injuries are also common when players pivot, run, jump, and rebound which can put extra strain on these areas. Strains and bruises of these areas can occur when there is contact on the court or an athlete overextends a muscle or ligament.  A way to prevent some of these injuries is a thorough stretching routine. The more flexible you are the less likely you are to sustain an injury, especially in the hip and thigh. Physical therapy Garden City, NY can also help by assigning a training regimen to keep you fit for the season.
In addition, knee injuries are commonly seen in basketball due to the cutting and pivoting athletes do when they are making a charge to the hoop or attempting to get around another player. These injuries include ACL and meniscus tears which can force basketball players to miss up to a year of playing time depending upon the severity of the injury and strength of the athlete. Prevention methods for knee injuries can include strengthening of the surrounding leg muscles or perhaps wearing a knee brace if you are prone to a knee injury.
Physical Therapy Garden City, NY
No matter what the injury you face, our expertise physical therapy Garden City, NY can help you recover fast and allow you to get back on the court. At Island Sports Physical Therapy, we specialize in sports specific training, where we choose a training program that is tailored to your needs and helps you to have a speedy recovery.  It is our goal to help you get back to doing what you love. You train so hard for the basketball season, so why should an injury stop you from having a breakout year? Schedule an appointment if you have suffered an injury so that we can do our best to help you succeed.
Why Consider Geriatric Therapy?

Discomforts that originate from growing older can be rather burdensome for geriatric patients. As we age, complications such as osteoporosis and arthritis tend to develop more frequently. These degenerative diseases progressively worsen over the duration of time. If you're a geriatric patient and you're looking to heal degenerative complications with non-drug treatment, contact Island Sports Physical Therapy Garden City, NY for further assistance. Our team specializes in geriatric rehabilitation, providing continued benefits for a wide range of patients.
Which Ailments Can Geriatric Therapy Treat?
Commonly, geriatric patients are recommended to pursue medical assistance when seeking treatment for age-related ailments. Certain doctors may brush off physical therapy as a serviceable tool for treatment, but the reality is that PT can often gather together an innumerable amount of benefits for geriatric patients. Common geriatric conditions that can be treated through the use of physical therapy may include the following:
Rheumatoid Arthritis: An inflammatory condition that may not only target your joints but an array of other bodily functions.
Osteoporosis: A condition that develops more frequently with age, osteoporosis weakens the patient's bones and causes them to be more susceptible to injury.
Alzheimer's Disease: Moving on to neurological conditions, Alzheimer's Disease reduces a patient's memory and limits their thinking/behavioral skills.
Parkinson's Disease: A nervous system disorder, Parkinson's Disease affects the patient's movements, causing the development of tremors.
If a geriatric patient is looking for treatment options that are free of medication, they need to consider Island Sports Physical Therapy Garden City, NY.
Why Consider Geriatric Therapy?
For the majority of geriatric patients, they may look to seek out physical therapy after undergoing an issue that served as a wake-up call for them. For example, older patients who recently experienced a fall may strongly consider treatment as they desire to maintain their pride and independence. Physical therapy can also help treat vestibular disorders, improving both balance and coordination. Other eye-opening instances for patients can include more severe occurrences, such as suffering through a stroke. Strokes are not only frightening but afterward, patients may experience limited movements. One of the primary benefits associated with physical therapy is that it allows patients the opportunity to reteach certain movements and muscle functions.
Physical Therapy Garden City, NY
Geriatric patients will need to weigh all courses of action when deciding what to do about their worsening conditions moving forward. While medication certainly has its benefits, physical therapy is a more precise option for treatment. PT will not only target your specific ailment but also provide copious amounts of health-related benefits. Also consider the fact that it may provide an increased level of engagement for geriatric patients, giving them a source for activity. If you're considering geriatric therapy for yourself or a loved one, contact Island Sports Physical Therapy Garden City, NY and schedule an appointment today.
Unleashing Your Potential for Recovery at ISPT
Are you needing the best physical therapy in Garden City, NY? Look no further than Island Sports Physical Therapy. Located in Garden City, our clinic offers top-notch physical therapy services that prioritize your health and wellness. Here we will explore why Island Sports Physical Therapy is the go-to physical therapy clinic in Nassau County and why you should consider reading further.
Expert Physical Therapy Services in Garden City
Island Sports Physical Therapy in Garden City is staffed by a team of highly skilled and compassionate physical therapists. They are dedicated to helping you achieve optimal health and recovery through customized rehabilitation plans tailored to your unique needs. With our expertise and the use of advanced techniques, such as the McKenzie Method, they provide effective pain relief, improved mobility, and enhanced strength. Whether you're seeking post-operative rehabilitation, injury prevention strategies, or long-term pain management, Island Sports Physical Therapy is equipped to address your concerns.
Compassionate Care and Individualized Approach
One of the key components that sets Island Sports Physical Therapy apart is our commitment to providing compassionate care. Our team of physical therapists takes the time to listen to your concerns, thoroughly evaluate your condition, and work closely with you to develop a comprehensive rehabilitation plan. We believe that feeling comfortable and understood is essential for successful treatment outcomes. From the moment you step into our clinic, you'll be greeted with a friendly and welcoming atmosphere, where the staff is always smiling and ready to assist you.
Island Sports Physical Therapy offers a wide range of therapeutic exercises, including manual therapy, massage, lymphatic intervention, and bilateral and reconstructive exercises. These interventions aim to reduce pain, increase mobility and strength, and improve overall function. Our comprehensive approach to physical therapy considers not only your immediate needs but also focuses on long-term pain management and injury prevention. By addressing underlying issues and providing the necessary tools and education, they empower you to take control of your health and experience long-lasting results.
PHYSICAL THERAPY GARDEN CITY, NY
If you're in search of the best physical therapy clinic in Garden City, NY, Island Sports Physical Therapy is the place to go. our team of expert physical therapists, individualized approach, and comprehensive range of services make them the top choice for your rehabilitation needs. Don't let pain or limitations hold you back—trust Island Sports Physical Therapy to help you unleash your potential for recovery and return to a pain-free and active lifestyle. Remember, when it comes to physical therapy, choose Island Sports Physical Therapy Garden City NY. Our compassionate care, individualized approach, and commitment to your overall well-being make them the ideal partner on your journey to better health and mobility.
How To Manage Chronic Pain During The Summer Months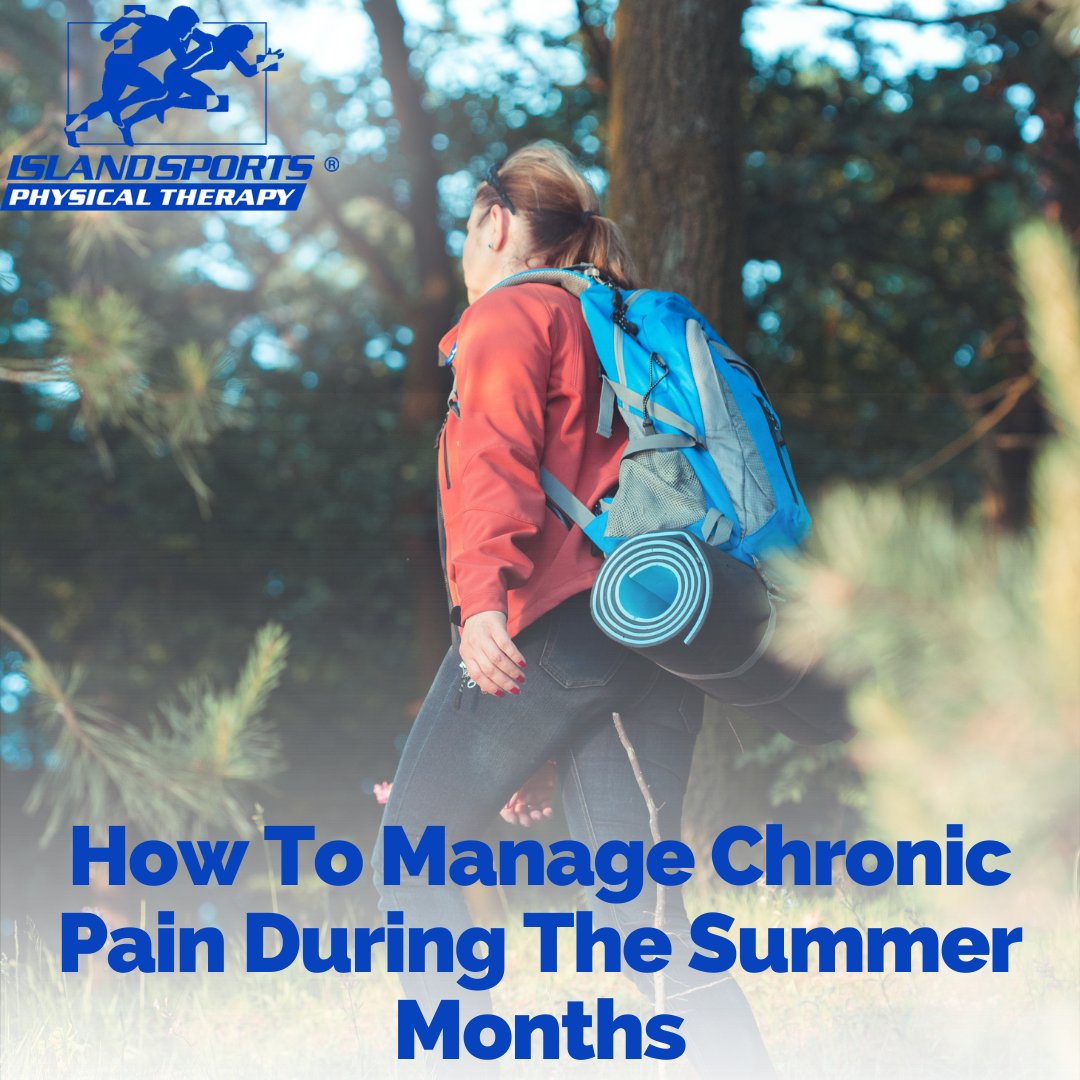 Chronic pain can significantly impact your quality of life, especially during seasons when the temperature rises. At Island Sports Physical Therapy Garden City NY, we understand individuals' challenges when trying to enjoy the summer while dealing with persistent pain. Continue reading for valuable tips and strategies to help you alleviate discomfort and make the most of the sunny season.
The Impact of Summer on Chronic Pain
The summer can bring relief and new challenges for individuals with chronic pain. The warm weather and increased sunlight can enhance mood and promote physical activity, which are beneficial for pain management. However, factors such as high humidity, changes in routine, and increased social engagements can also exacerbate symptoms and make it harder to cope.
Tips for Managing Chronic Pain During the Summer
Stay Hydrated

– Proper hydration is crucial for overall health and can significantly impact pain levels. During the summer, it's essential to drink adequate water to prevent dehydration, which can exacerbate pain symptoms. 

Prioritize Rest and Relaxation

– While summer often brings a flurry of activities, it's essential to prioritize rest and relaxation to manage chronic pain effectively. Set aside time each day for self-care activities that promote relaxation, such as meditation, deep breathing exercises, or gentle stretching. Incorporating these mindful practices into your routine can help reduce stress levels and alleviate pain symptoms.

Manage Temperature Sensitivity

– Chronic pain patients often experience heightened sensitivity to temperature changes. During the summer, extreme heat or cold air conditioning can worsen pain symptoms. Ensure your living environment remains at a comfortable temperature by using fans, air conditioning, or heating devices as needed. Consider wearing lightweight, breathable clothing to regulate body temperature effectively.

Seek Professional Help

– If chronic pain overwhelms your daily life, don't hesitate to seek Island Sports Physical Therapy Garden City NY. Consult with our physical therapist who specializes in pain management. They can provide personalized treatment plans, recommend specific exercises and techniques, and offer valuable advice tailored to your unique needs.
Contact Us
Managing chronic pain during the summer months requires careful planning and attention to your body's needs. By following the tips provided in this article, you can navigate the sunny season with greater ease and enjoy the activities you love while minimizing pain. Be sure to contact Island Sports Physical Therapy Garden City NY today to learn more and request an appointment!
Tips For Preventing Injuries This Spring/Summer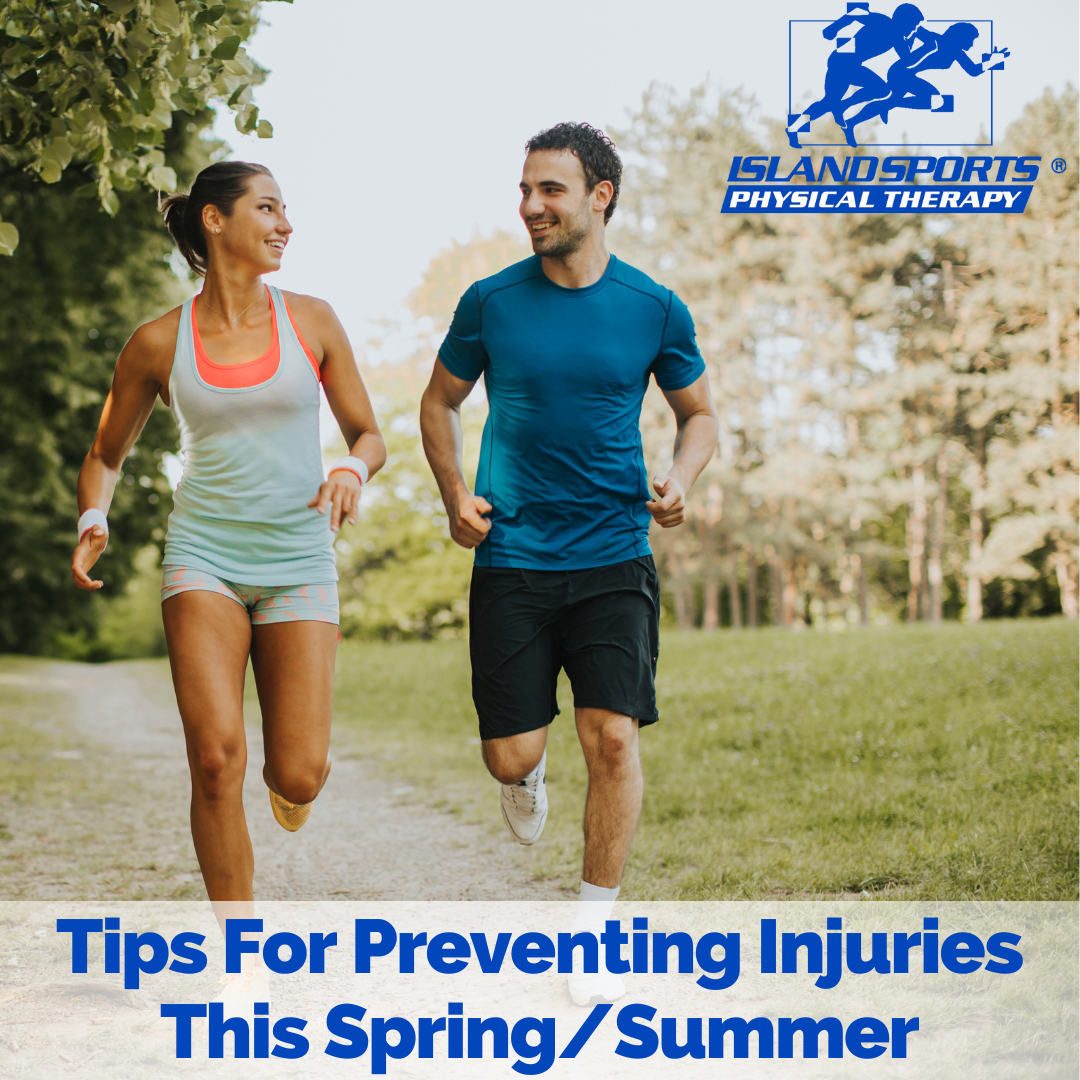 Spring and summer are perfect for outdoor activities such as hiking, biking, and swimming. However, these activities also increase the risk of injuries due to the high intensity and duration of physical activity. At Island Sports Physical Therapy Garden City NY, we have seen our fair share of injuries caused by outdoor activities during these seasons. That is why we have put together some tips to help prevent injuries and allow you to enjoy your outdoor activities fully. Continue reading to learn more!
Tips For Preventing Injuries This Spring/Summer
Start Slowly

– When starting any new physical activity, it is essential to start slowly and gradually build up your intensity and duration. Doing too much intense activity too soon can cause injuries such as muscle strains and sprains. Begin with shorter and less intense workouts and gradually increase the intensity and duration. It is also essential to warm up before starting any activity to prepare your body for the physical demands that lie ahead.

Wear the Right Gear

– Wearing the right gear is crucial for preventing injuries during outdoor activities. For example, proper shoes with good support and grip can prevent ankle and foot injuries. Similarly, wearing a helmet while biking or skateboarding can protect your head from severe injuries in case of a fall. Make sure to choose appropriate gear for your activity that fits you well.

Listen to Your Body

– One of the most important things you can do to prevent injuries is to listen to your body. If you feel pain or discomfort during an activity, it is essential to stop and rest. Ignoring pain or pushing through it can lead to more severe injuries that may require medical attention. Resting and allowing your body to recover can prevent further damage and help you return to your activity sooner.
Contact Us
Preventing injuries during outdoor activities is crucial for enjoying the season and staying healthy. By following these tips, you can safely enjoy all the great outdoor activities that spring and summer have to offer. Be sure to contact Island Sports Physical Therapy Garden City NY today to learn more and request an appointment!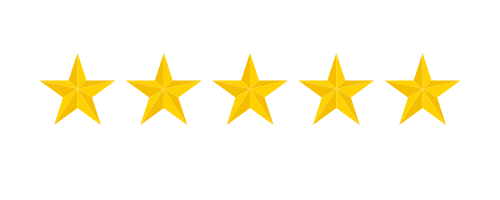 I highly recommend Island Sports Physical Therapy/East Meadow. Ron is professional and knowledgeable, and gives all his patients his undivided attention. His staff are all hard working, kind and attentive. The facility is a pleasure!! I am so thankful to Ron and his wonderful staff for getting me up and running again. – Doris R.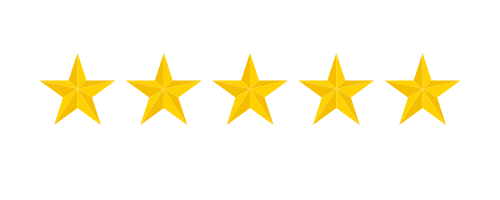 I have seen Ron for over 12 years. From tennis elbow to hip replacement and now my second knee replacement! Ron is super knowledgeable and has an excellent caring manner. He gives a personal and professional care to each patient. I highly recommend him! Thank you Ron and his team! – Nasrin A.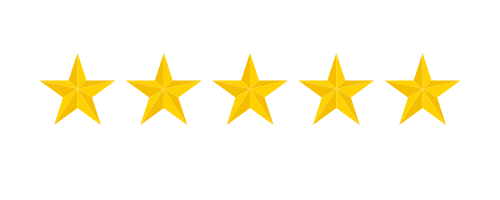 I've been receiving physical therapy from Ron Winicki and his staff for several months. Very satisfied with the service and attention I've received there and I'd highly recommend him to anyone looking to start therapy. The office staff is also very accommodating and friendly. Ron and his team seem to really like what they do and work extremely hard to get you on the road to recovery! – Tom C.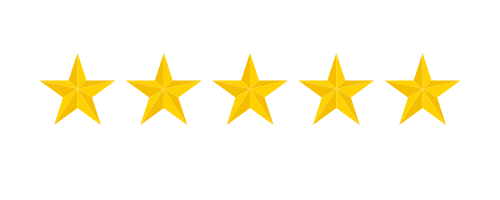 Ron and his staff have been instrumental in helping me out with multiple injuries for over 20 years. As a career firefighter for 32 years your body gets beat up. This staff and facility have been instrumental in much of my recovery. They are courteous, friendly and great at what they do. I recommend them highly for any of your aches and pain. – Anthony M.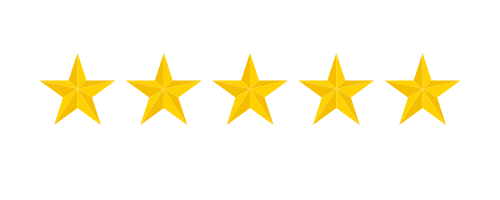 I have been a patient here twice and my experience was a very good one. Ron and his whole team are very pleasant , efficient and very attentive to your needs. Also accommodating with the schedule . I highly recommend them to anyone who needs therapy !!! – Daniela P.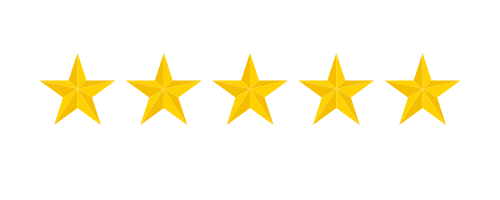 Great place for physical therapy, Ron is very knowledgeable and hands on. He is great with his patients. He has helped my son get strength back on his right leg after he broke his femur bone and had surgery. The staff is also great, very friendly, hands on and helpful. Don't hesitate to make an appointment, you won't be disappointed. – I.U.